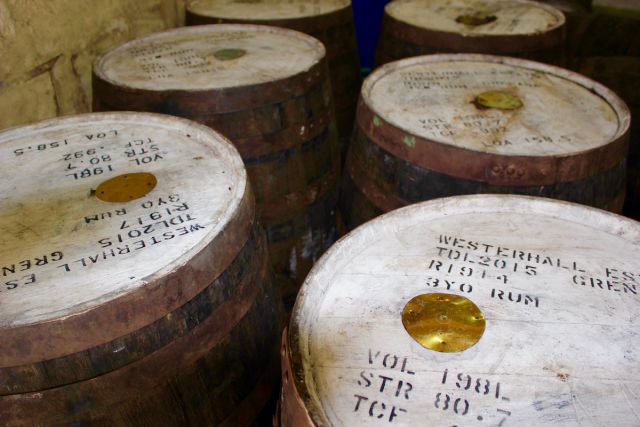 Westerhall barrels containg 198 litres of 3 year old rum at 80.7% strength ready for processing and bottling. Photo: RORC / Louay Habib
It was a chance meeting in Grenada that formed the partnership between the RORC Transatlantic Race and Westerhall Rums. Nick Kingsman, Director of Westerhall Rums UK, was visiting Grenada, at the same time as the Royal Ocean Racing Club agreed to choose Grenada as the host venue for the finish of the RORC Transatlantic Race. The relationship has blossomed with Westerhall Rums continuing to passionately support the race, as well as stock the bars of the RORC Clubhouse in London and Cowes.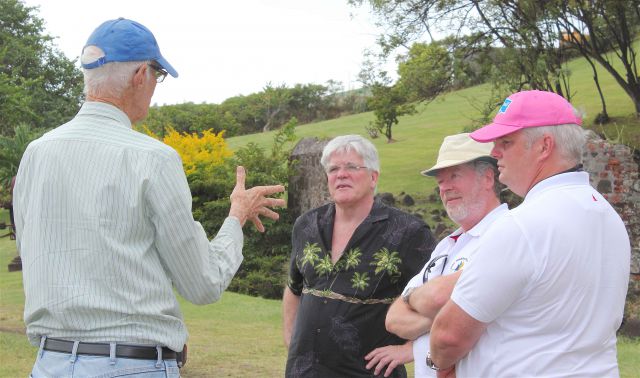 Arthur Bain talks to Nick Kingsman, Andrew McIvine and James Bremridge about the Westerhall Estate history and more recent developments. Photo RORC / Louay Habib
During the second edition of the RORC Transatlantic Race, RORC Admiral, Andrew McIrvine and RORC Deputy Racing Manager, James Bremridge, were invited to the Westerhall Estate for a guided tour with Arthur Bain, who has lived all of his long life in Grenada.
"Westerhall began making rum on this property in the 1700s when the plantation took up hundreds of acres. Access to pure water and fresh cane juice made a quality and distinctive rum right from the beginning and Westerhall have kept to those traditions and still operate from the same locations as we have always done. These days, there is little sugar cane production in Grenada, so the sugar cane spirit is now imported from Trinidad and then blended and aged and bottled at the Westerhall Estate" commented Arthur Bain.
Currently Westerhall Rums produce seven different brands. The premium brand is Vintage, which is matured in oak barrels for ten years before bottling. Smooth and gentle and designed to be drunk alone or with ice, Westerhall Vintage has won many international awards. In contrast Jack Iron Rum is an over proof rum made from a secret recipe that packs a punch at 70% alcohol by volume and is designed as a rum to be drunk with mixers such as cola, fruit juice or tonic water. As with all of the Westerhall Rums, Jack Iron is an award winner.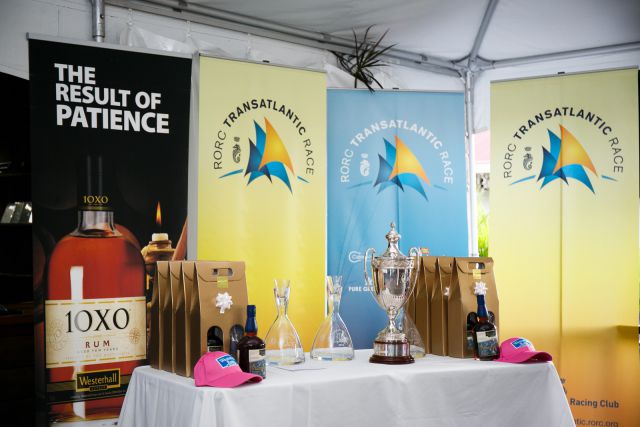 The prizegiving for the IMA Trophy and Class 40 supported by Westerhall Rum, with the Westerhall presentation boxes for the winning crews. Photo: RORC / Arthur Daniel
Westerhall Rums are proud sponsors of the RORC Transatlantic Race. Handcrafted Westerhall Rum is produced in Westerhall Bay, located on the southeast coast of Grenada, one of the islands many stunning locations. Ask anyone who really knows about rum. Westerhall Rums are perfectly balanced, exhibiting tremendous grace and finesse and made in a time-honoured process.
With the festive season fast approaching, there is still time to order Westerhall Rums for your Christmas gathering. For UK & European on-line orders go to: http://www.westerhallrums.co.uk/find-westerhall-rum
For details of worldwide distributors visit http://www.westerhallrums.com
---