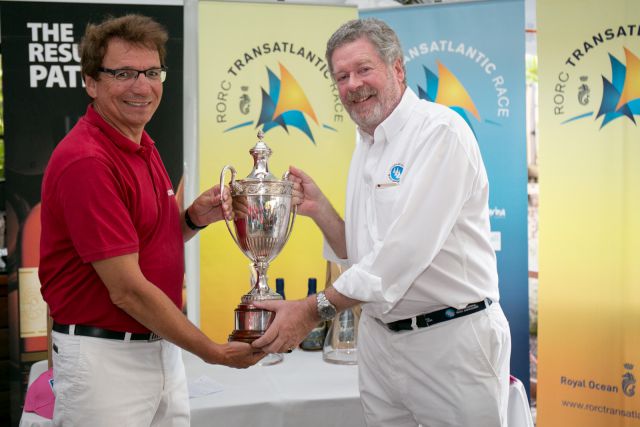 IMA Secretary General and RORC Admiral Andrew McIrvine presents Jean-Paul Riviere of Nomad IV with the International Maxi Association Trophy Photo: RORC / Arthur Daniel
At a Prizegiving reception hosted by the International Maxi Association at Camper and Nicholsons Port Louis Marina, IMA Secretary General and RORC Admiral, Andrew McIrvine presented French skipper, Jean-Paul Riviere with the IMA Trophy for Monohull Line Honours. The Victory Bar was packed to capacity for the celebration, with a huge cheer as the exquisite antique silver trophy was presented.
Jean-Paul Riviere's French Finot Conq 100, Nomad IV crossed the finish line of the RORC Transatlantic Race at 19 hours 06 mins and 59 secs UTC on Tuesday 8th December 2015, taking Monohull Line Honours. Nomad IV also set a new monohull record for the RORC Transatlantic Race of 10 days 07 hours 06 minutes and 59 seconds.
"I'm very, very happy!" smiled Jean-Paul. "Nomad IV was built as a prototype, a one off, and it has taken the team some time to realise her potential. During the race, we only had a few sail problems, which is expected for a 3,000 mile race,. Apart from that, the boat and the crew performed extremely well and that gives me as much delight as winning such a prestigious race."
Andrew McIrvine also presented Spanish skipper, Gonzalo Botin with an engraved RORC Transatlantic Race decanter. Gonzalo Botin's Spanish Class40, Tales II crossed the finish line of the RORC Transatlantic Race shortly after 9pm local time on Friday 11th December. Completing the race in just over 12 ½ days, Tales II, with a crew of four from Santander, was the first Class40 to complete the race and has set a new Class40 record with an elapsed time of 12 days 12 hours 36 mins 32secs.
The crews of Nomad IV and Tales II were presented with gift boxes by Managing Director of Westerhall Rums, Graham Williams. Guest of Honour was Rudy Grant, CEO of Grenada Tourism Authority.
---