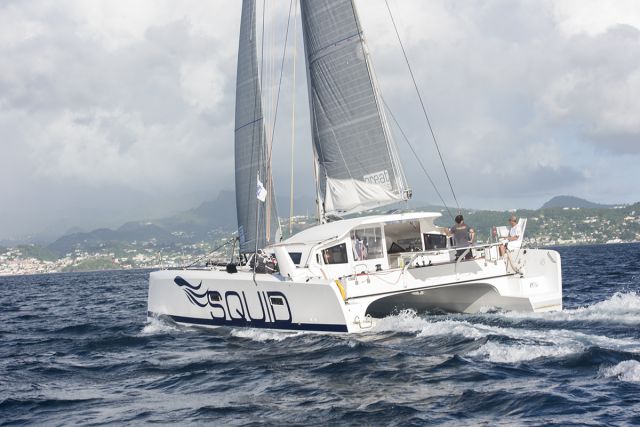 Zed 6 skippered by Gerald Bibot and Michel Kleinjans approaches the finish, at Quarantine Point, of the RORC Transatlantic Race 2015. Photo: RORC / Orlando K Romain
Gerald Bibot's Belgian 42ft catamaran Zed 6, co-skippered by Michel Kleinjans, crossed the finish line of the RORC Transatlantic Race on Wednesday 9 December at 20h 00m 04s UTC in an elapsed time of 11days 7hours 50mins 4sec. Zed 6 is the fourth yacht to complete the race and the first to finish with just two crew on board. Zed 6 was the only yacht to take a northerly route to Grenada and although the route was longer in terms of miles, the wind strength proved far more favourable.
To put the Two-Handed Belgian teams performance into perspective, as Zed 6 crossed the finish line, the Southern Wind 94 Maxi, Windfall was 220 miles from Grenada.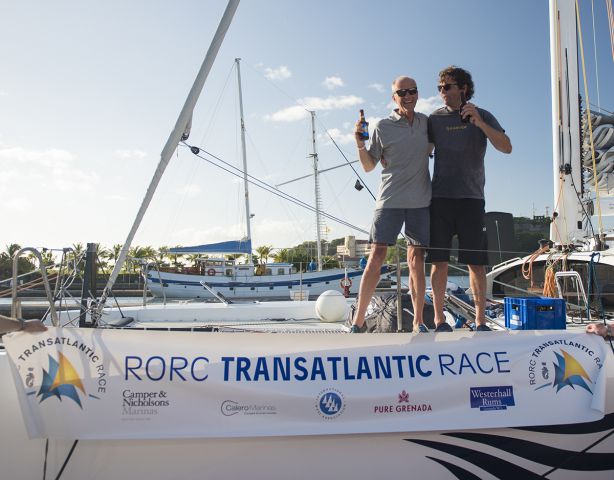 Gerald Bibot and Michel Kleinjans congratulate each other onboard Zed6 at the conclusion of the RORC Transatlantic Race 2015. Photo: RORC / Orlando K Romain
Gerald and Michel received a rousing welcome on arrival at Camper & Nicholsons Port Louis Marina. Taking their mooring lines were Glynn Thomas, General Manager of Port Louis Marina and James Bremridge, Deputy Racing Manager of the Royal Ocean Racing Club. Gerald Bibot is an experienced Class 40 sailor and Michel Kleinjans has held numerous world records and raced around the world twice, but neither of them has ever raced a catamaran across the Atlantic Ocean before.
"This boat is very demanding compared to a Class40," said Gerald Bibot, dockside. "There was no period of rest what-so-ever. We had watches of three hours each and we were steering all the time. Most of the time we were sailing under masthead kite and full main and almost on the edge. We always had a nervous tension that the boat would flip over, so we were very cautious about that and kept the sails and the helm in our control. All of this made the race more tiring than an Atlantic in a Class40 as there was a lot of power in the tiller. Michel and I are very complementary but sailing with him, he likes to push to the limit. He is a man that tolerates a lot of pain but that's okay, I am fine with that. Of course we are delighted to be ahead of most of the fleet and our northerly route was the right way to go. We have had a fantastic welcome in Grenada and we intend to stay here for a few days to explore the island. Can I add that it was so nice to race across the Atlantic with RORC; the organisation and attention to detail is far better than other races across the ocean."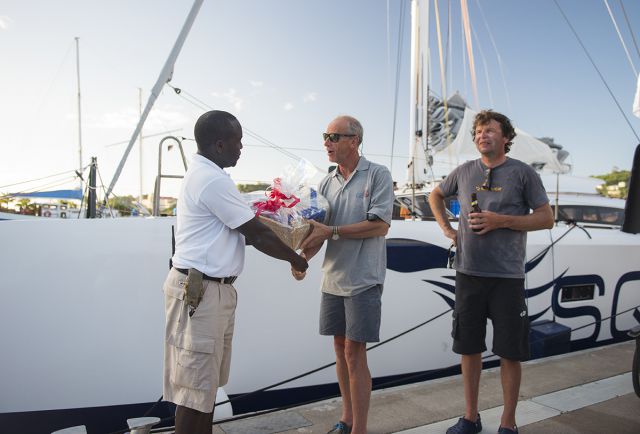 Gerald Bobot of Zed6 receives, chocolate, coffee and rum from the people of Grenada on completing the RORC Transatlantic Race 2015. Photo: RORC / Orland K Romain.
---