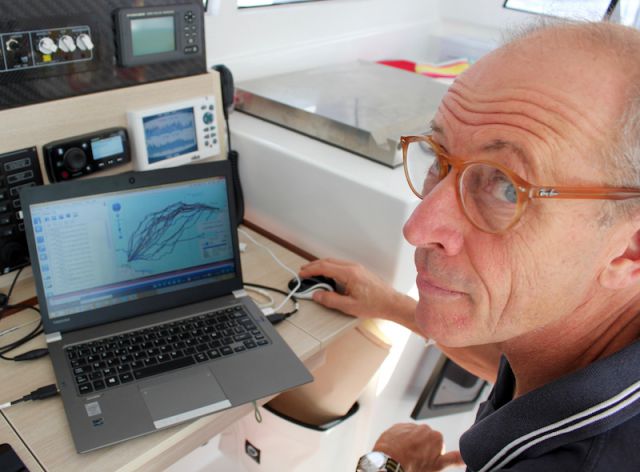 Gerald Bibot explains the likely weather senario for the start of the RORC Transatlantic Race - Photo RORC/Louay Habib
Gerald Bibot's Belgian 42ft catamaran, Zed 6 is likely to be one of the first yachts to finish the 3,000 nautical mile race and will be hoping to win the Multihull Class after MOCRA time correction. Racing with Gerald will be Michel Kleinjans, who has set numerous world records, including the Round Britain and Ireland and Round Ireland races. Gerald Bibot is the founder of Great Circle which produces the revolutionary weather prediction and routing programme Squid. One of the features of Squid is Ensemble Modelling, running 20 related but different analytical models and then synthesizing these results into a single spread in order to improve the accuracy of predictive analytics.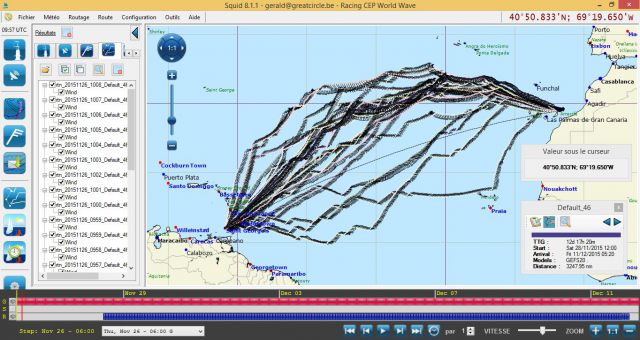 Ensemble Routing for the Start of the RORC Transatlantic Race - Photo Great Circle
"By slightly changing the conditions that have been forecast we can produce different scenarios, which offset possible errors in the data. This has been a major step forward in meteorology in the last 10 years. Great Circle considers these ensemble probabilistic models as the better way to forecast long range weather routing and this is particularly true when high pressure is forecast on the route, as it will be for the start of the RORC Transatlantic Race. Over the past few days, the probability of a high pressure system coming across the course has been increasing. So the trick will be whether you run north or south of the high pressure," says Gerald Bibot.
"What is now clear is that it is very likely that the fleet will head west north west to a point about 200 miles west of Madeira, as 19 out of 20 ensemble models are suggesting this. Then the decision will be to continue in a westerly direction or to head south on the traditional great circle route. We know that there will be a high pressure system west of the Canary Islands, but what we don't know is how big it will be and how long it will remain in place. This high pressure ridge will make a big difference to the race because the boats will have to go around it, adding more miles to cover."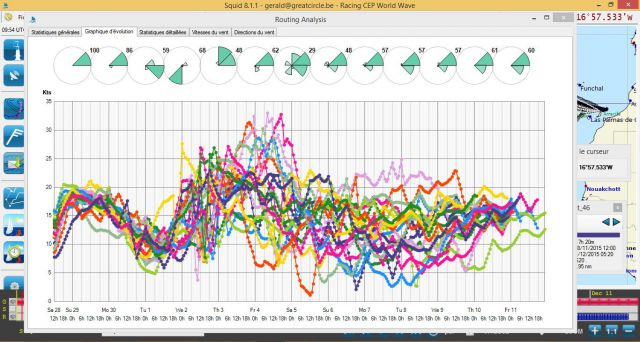 Weather Routing Ensemble Model - Photo Great Circle
Wouter Verbraak, navigator for MOD 70, Concise 10 added some tactical analysis to the weather forecast: "The high pressure ridge is going to be a big factor in the early part of the race," commented Wouter. "After the reaching start, the game will be how close Concise 10 gets to the high pressure ridge. The closer we get, the better the wind angle, but also the chance of running out of wind. Staying away from the high pressure may result in more wind but it will be at a closer angle to the wind."
Christopher Reilly, boat captain for Nomad spoke about the latest weather scenario for the RORC Transatlantic Race. Jean-Paul Riviere's Finot Conq 100, Nomad is favourite to lift the vintage silver trophy presented by the International Maxi Association for monohull line honours: "After assessing new polar information for Nomad and the latest weather scenario, we could finish the race in nine days."
Gonzalo Botin, Spanish skipper of Class 40, Tales II was class winner of the 2015 Rolex Fastnet Race and RORC Caribbean 600. Gonzalo will be taking part in his ninth race across the Atlantic, this time fully crewed with a team all from Santander, Spain: "We will be sitting down today and looking at the weather scenario for the first seven days. This is a very interesting route, it is not just about getting into the trade winds, there are all sorts of considerations, especially clouds, which can make a big difference and to do well in this race, you have to keep very alert at all times."
---