What an achievement. "We've crossed the Atlantic!" Cheers on the dock as the crew of the Nova Scotia-Based sail training vessel, Challenger complete the RORC Transatlantic Race from Lanzarote to Grenada in 18 days © RORC/Arthur Daniel
Chris Stanmore-Major's Whitbread 60 Challenger crossed the finish line outside Camper & Nicholsons Port Louis Marina today (13 December) at 15 hours 12 minutes and 37 seconds GMT. Two yachts are still to finish the 2016 RORC Transatlantic Race; James Heald and Ben Harris, racing Swan 45, Nemesis have 290 miles to go and Giles Redpath's Lombard 46, Pata Negra has 322 miles to cover to finish the race.
Arriving in time for the RORC Transatlantic Race prizegiving, Challenger is one of the sail racing school yachts owned by Spartan Ocean Racing, based in Nova Scotia, Canada. Skipper Chris Stanmore-Major summed up the aims and aspirations of the company in his last blog at sea, before crossing the finish line in Grenada after 18 days at sea.
"After 3,300Nm we finally have Grenada in sight and the crew are elated. Whilst this has been a race and we have not won, the scale of the challenge we have completed is not lost on us, and as a sail training vessel, we are exceptionally proud of what we have accomplished. People with wildly differing skill levels have come together from all over the world and in just two weeks learned how to operate a boat that 20 years ago was at the cutting edge of performance.
Hell's teeth, we have crossed the Atlantic! We have learned how to be the crew of an ocean-going yacht, pushing as hard as we could within the bounds of the new skills we have developed and we are proud; we are elated and boy are we looking forward to the ice cold beers the RORC Race Office are loading up into a cart to bring down to the dock for us.
"My very great thanks to my wife Kathie back home in Nova Scotia who has provided not only logistical support for the last 3,000+Nm, but also the 5,500Nm that preceded this, as Challenger made her way to the RORC start line from Canada to the UK, to France and finally to Lanzarote. My thanks also to Keith Davidson, Daniel Degenais Gaw and Diane Reid, my pro crew who have made the last 8,500Nm not only possible, but fun and safe. They will be going to their own new Spartan steeds in the coming year and I wish them great luck. Finally my thanks to RORC who have once again put on a fantastic race and given us a bucket list experience everyone here will remember for a lifetime.
Crossing the finish line in Grenada and ready for a warm welcome at Port Louis Marina - and a cold beer! © RORC/Arthur Daniel
"For the RORC Transatlantic Race 2017 we hope to return with up to eight boats, all Volvo 60's and IMOCA 60's, all with charter crews on board and all sailing within an agreed set of class guidelines that finally allow these boats to once again compete on a level playing field. Exciting? You bet it is. Watch this space." www.spartanoceanracing.com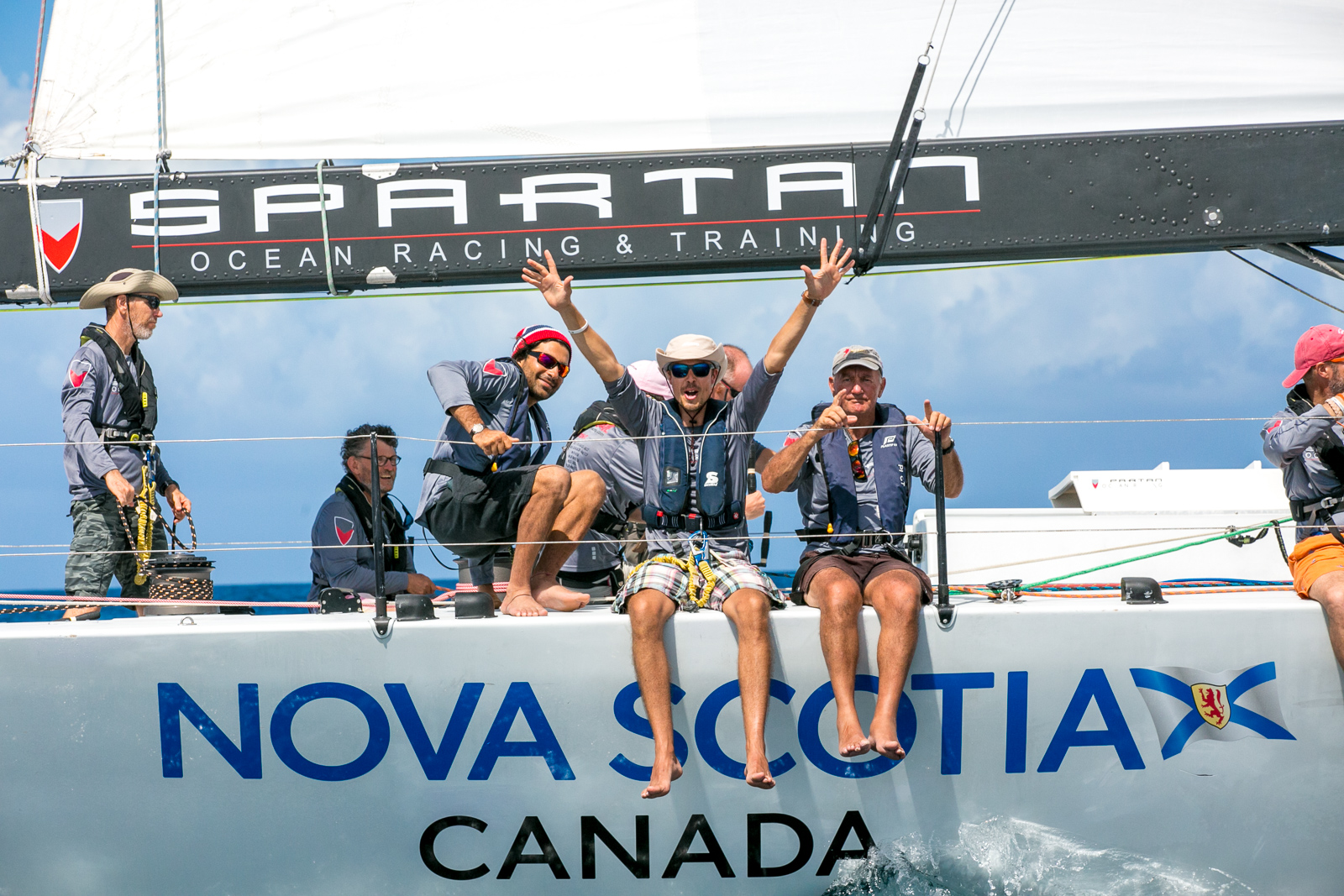 Flying the flag for Canada: Spartan Ocean Racing's Whitbread 60, Challenger © RORC/Arthur Daniel
---