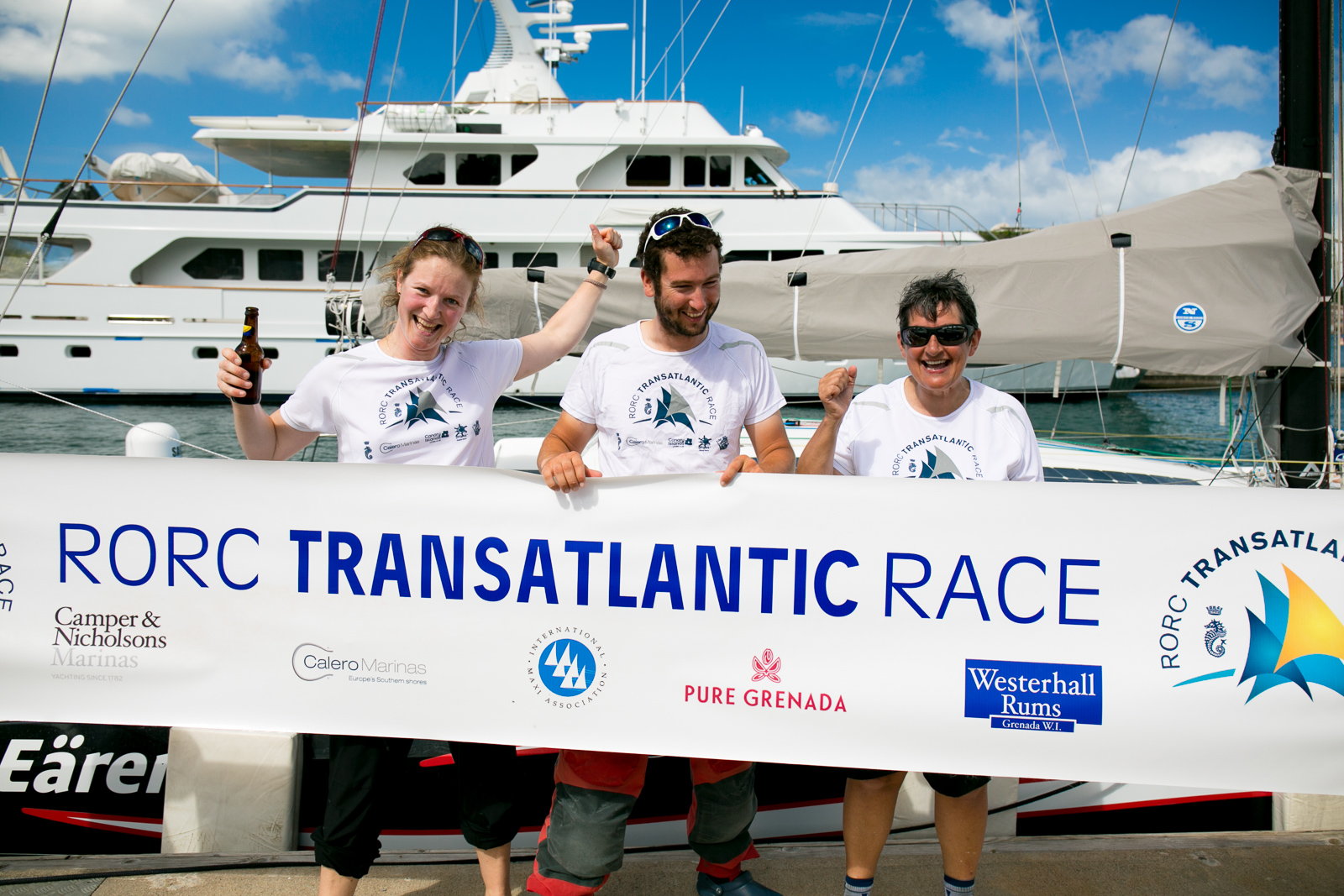 Catherine Pourre, Benoit Hochart and Anna-Maria Renken are highly experienced ocean racers, but the RORC Transatlantic Race first time they had come together as a team © RORC/Arthur Daniel
12 December 1600 GMT - Day 17 Report
Catherine Pourre's Class40, Eärendil crossed the finish line of the RORC Transatlantic Race outside Camper & Nicholsons Port Louis Marina on 12 December at 13 hours 25 minutes and 02 seconds. Eärendil was nearly a day behind the Class40 winner, Campagne de France. However, Eärendil enjoyed a fast finish into Grenada as the trade winds fully filled in. The three crew on board were skipper, Catherine Pourre, Benoit Hochart and on helm through the finish line was Anna-Maria Renken. All three are highly experienced ocean racers, but this was the first time they had come together as a team.
"Eärendil is a new design from Sam Manuard and is a Mach40 Evolution 3 launched in September 2015. It is a very powerful boat with a lot of volume in the bow, designed for reaching; the chine lifts the bow and it just flies over the waves. The design is also good in medium conditions with a wind angle of 65-115, but it is not so good upwind, especially in light winds. So when we experienced these conditions we were not strong. Also we were did not have a watermaker and we were carrying 180 kilos of water. Even when the wind did come, we had a difficult sea state with waves coming across the boat. So we could not use our spinnaker all of the time. We were using the A5 a lot and to change from that to the spinnaker required 20 minutes, including a time bareheaded, as they both use the same halyard and control lines. We had a good battle with Seconde Chance; they did well going south early on and then we saw them going north around to Barbados to try to catch us up. We decided to go south of Barbados mainly to cover them, which worked very well. Our next race will be the RORC Caribbean 600 and we will probably have five crew for that," comments Catherine Pourre.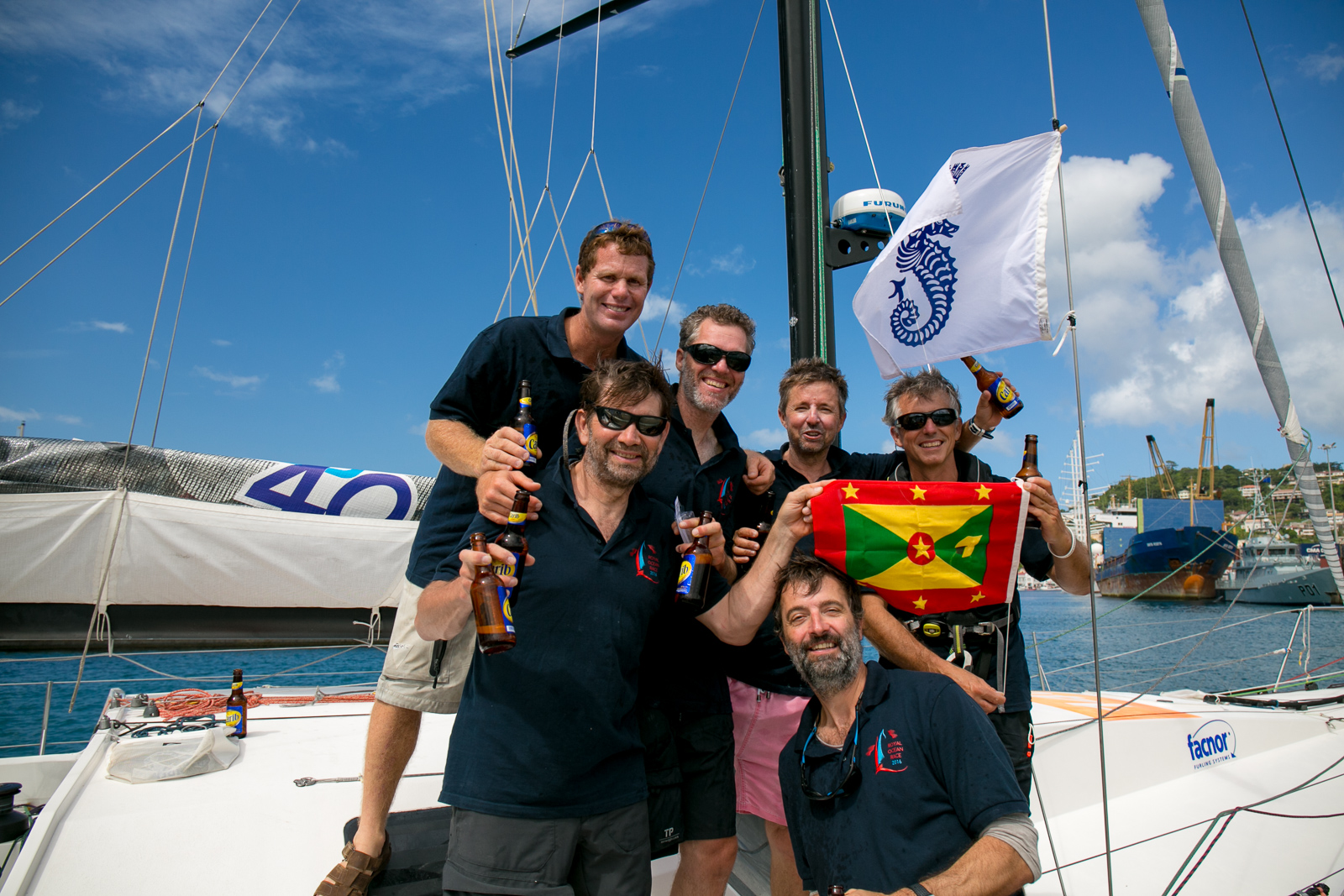 Laurent Pellecuer and crew on Class40, Seconde Chance were ecstatic as they crossed the finish line. The crew, all surgeons are raising awareness for their charity: http://2nd-chance.org/ during the race © RORC/Arthur Daniel
Laurent Pellecuer's Second Chance was racing in IRC 1 and the Class40 crossed the finish line today at 15 hours 12 minutes and 13 seconds. Laurent and his crew were ecstatic as they crossed the finish line, hugging each other and punching the sky with broad smiles. Laurent Pellecuer is one of the moat experienced Figaro sailors in modern times, having competed in the event almost non-stop for the last 20 years. Laurent has also won the AG2R (Lorient-St Barth) and the Round Britain Race in the Figaro Class. However, none of the rest of the crew have ever crossed the Atlantic before and they are all medical professionals and race on Lake Geneva; a far cry from a tough RORC Transatlantic Race.
"That was hell, but Laurent was like a gladiator!" smiled Pierre Quinodoz. "When you wake up in the middle of the night and it is blowing 30 knots and you have to change sails, it was very tiring. In the beginning we knew that we were in a real race. The course made us go to the north of the Canary Islands and then you had to choose, whether to go north or south. If we had just left Lanzarote, everyone would have gone south. So it was a tactical race, right from the start and it was a challenge between all the teams.
"We are all surgeons in special fields but no one aboard was hurt, so our medical skills were useless. None of us except Laurent has ever sailed across the Atlantic before, let alone raced across. This was our Vendée Globe; it was like 33 Bol D'or races; just crazy! We are so impressed with the skipper, he showed amazing energy and Laurent hardly slept at all for the race. Now we have arrived in Port Louis to receive such a warm welcome from everybody and it is the best way to finish this human adventure. We ate well on board, but we were running out towards the end and we are so happy to be here."
The next yacht expected to finish the 2016 RORC Transatlantic Race is Chris Stanmore-Major's Whitbread 60, Challenger which is expected to arrive at Camper & Nicholsons Port Louis Marina tomorrow afternoon, local time (13 December 1800 GMT)
---