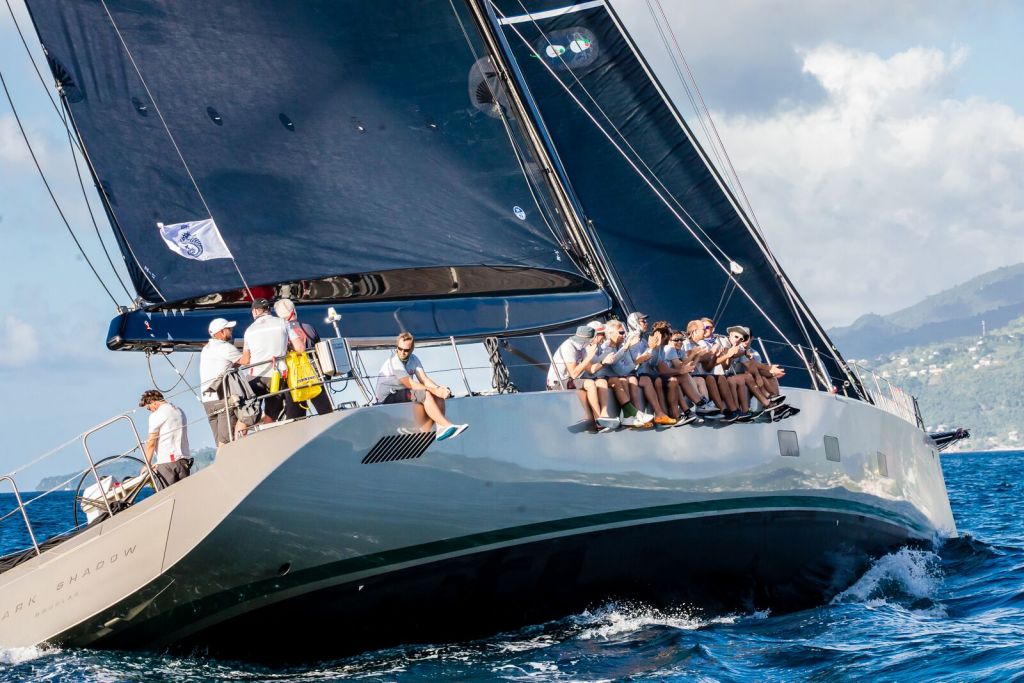 Dark Shadow approaching the finish line at Camper & Nicholsons Port Louis Marina, Grenada - Photo © RORC / Arthur Daniel
French Wally 100 Dark Shadow finished the 2019 RORC Transatlantic Race on Friday 6th December in an elapsed time of 13 days 9 hours 11 mins and 3 secs. Dark Shadow was sailed by Andre Auberton-Herve (FRA), and skippered by Yerin Hobson (AUS).
"I did the transat almost 12 years ago with the almost the same team, this time it was great but we had tricky winds but we enjoyed it," commented Andre Auberton-Herve. "Racing with the RORC means great organisation at the departure and a great reception here. The transat was perfect, we love it, Dark Shadow was flying! We reached 25 knots finally and that was very nice. It was great to put the team back together – The Expendables Transat!"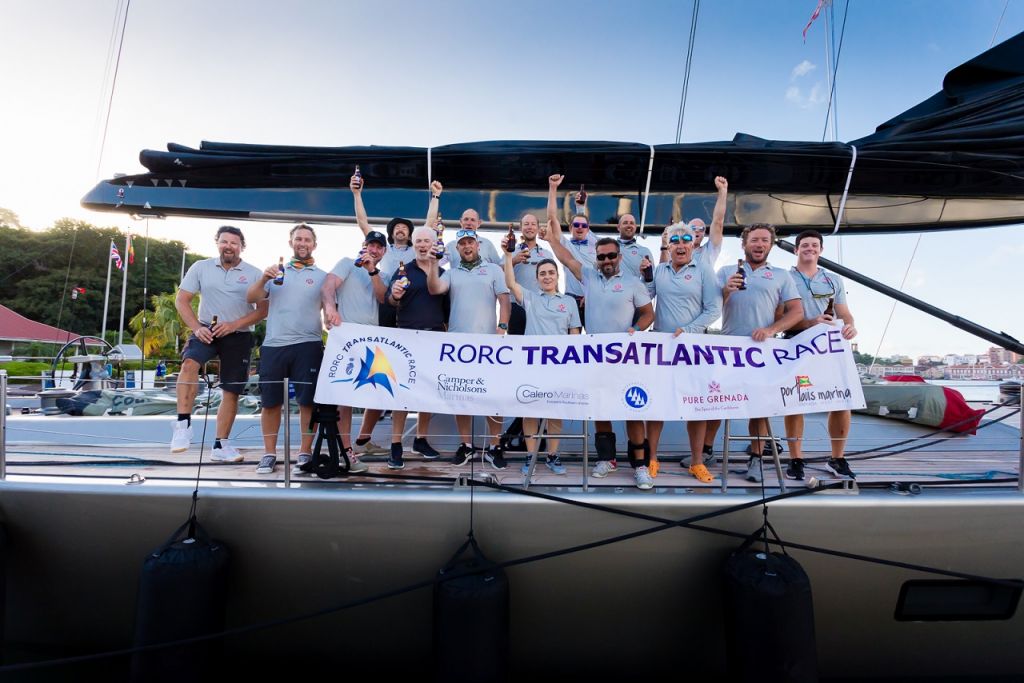 Wally 100 Dark Shadow celebrate their arrival at Camper & Nicholsons Port Louis Marina, Grenada. Dark Shadow : Andre Auberton-Herve, Kyle Cross, Andries de Jager, Nic Faraday, James Handy, Yerin Hobson, Kade Jacques, Miguel, Jauregui, David Martirano, Kenneth Nylander, David Parker, Piotr Przybylski, Sunkan Sundquist, Jan Wallander, Russell Whitworth, Annina Zaini - Photo © RORC / Arthur Daniel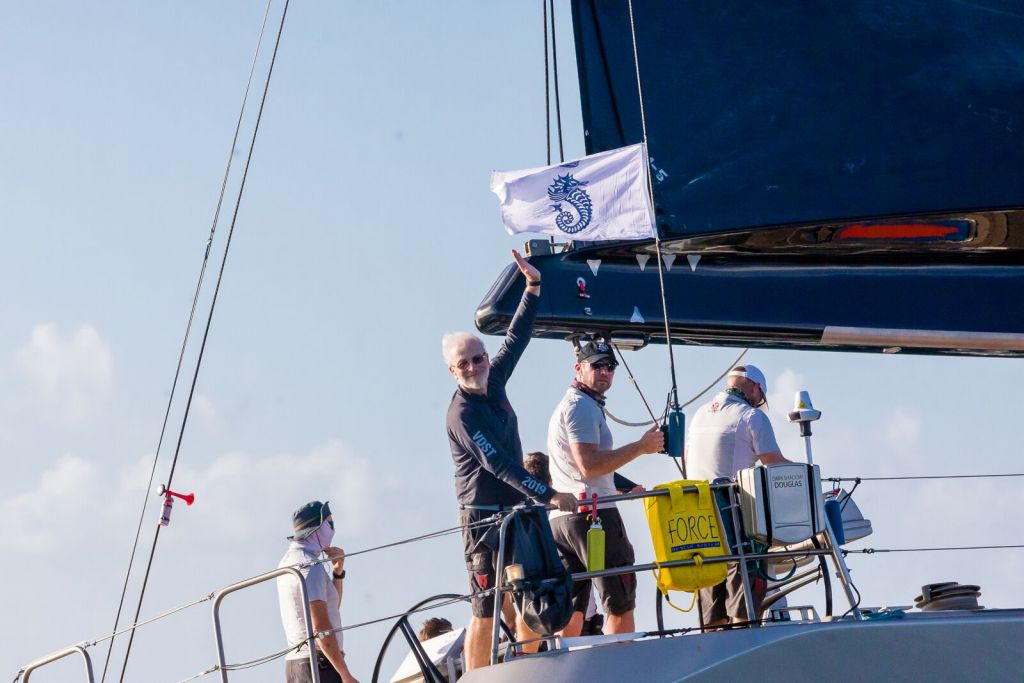 Dark Shadow finish the 2019 RORC Transatlantic Race - Photo © RORC / Arthur Daniel
The next yacht expected to finish the RORC Transatlantic Race is Giles Redpath's British Lombard 46 Pata Negra, skippered by Andy Lis with a young team. After almost exactly two weeks into the race, Pata Negra is 400nm from the finish, having logged 3000nm, Pata Negra is expected to finish the race on Sunday 08 December. Pata Negra's blog gives an insight into life on board.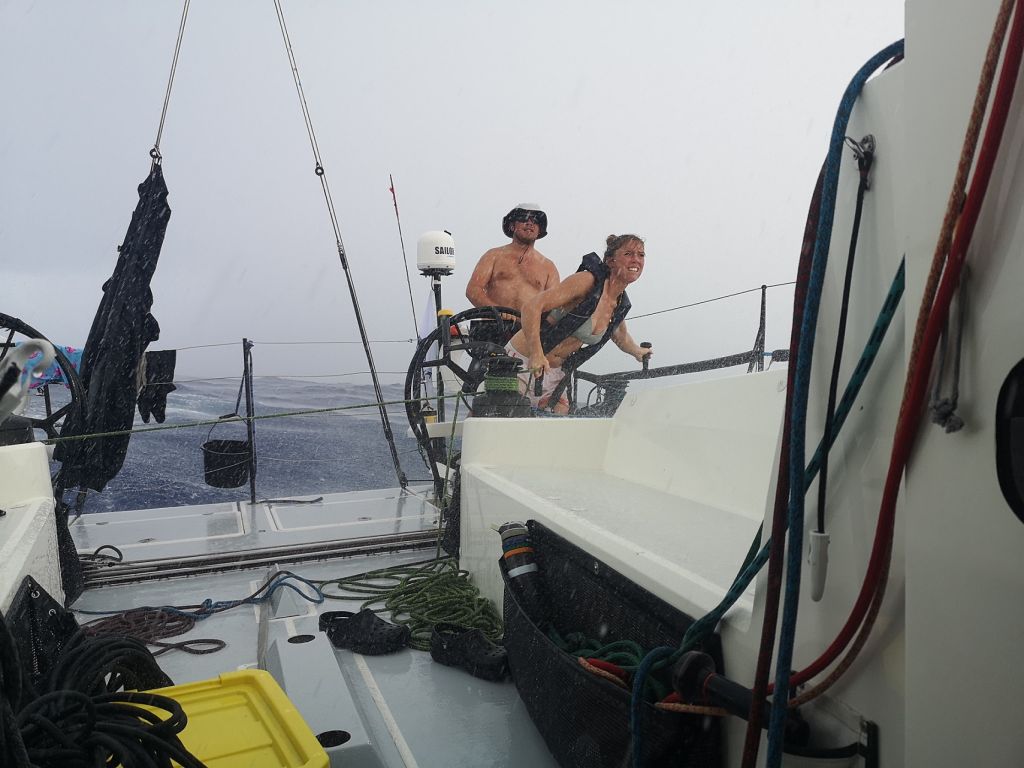 Skipper Andy Lis at the helm with Amy Seabright on kite trim use an uber Atlantic squall to maximise performance - Pata Negra Blog
"Last night and today's sailing has been littered with cloud activity and therefore a lot of quick gybes. We're pretty confident we can maximise potential of each, and have managed to be on the headed gybe most of the time. This is particularly tough as shifts can last from anywhere between 10 seconds to an hour. Squalls blow through with some clouds, hitting 37 knots at one point. Will capitalised on that and set a new speed record of 20.9 knots, verified by the shrill scream of Cat who previously held it! We're constantly trying to aim as close to Grenada as possible, while still making good speed. With the first finisher of the race, Childhood, pulling in just before midnight last night, the maths is soon to start as to what exactly we need to do to secure each position. Although these are only estimations, and everything is still to play for. Especially with these squalls and clouds. For now we will continue to look up at clouds, duck from flying fish trying to attack us, and dream of the rum cocktails in just a few days time. Roll on Grenada!"
More than 200 miles astern of Pata Negra is Richard Palmer's British JPK 10.10 Jangada, which Richard is racing Two-Handed with Jeremy Waitt. Jangada is estimated to be leading the race overall after IRC time correction but still has approximately 3 days at sea at their current speed.
Benedikt Clauberg's Swiss First 47.7 Kali is 770nm in the deep blue Atlantic Ocean. The team were celebrating on board yesterday Friday 06 December. Having a bit of Christmas fun, the Swiss love to celebrate the feast of St Nicholas with gifts of chocolates on board. As well as having a bit of a Caribbean style boogie! This Video is from 2018 RORC Transatlantic Race Ho Ho Ho!
---