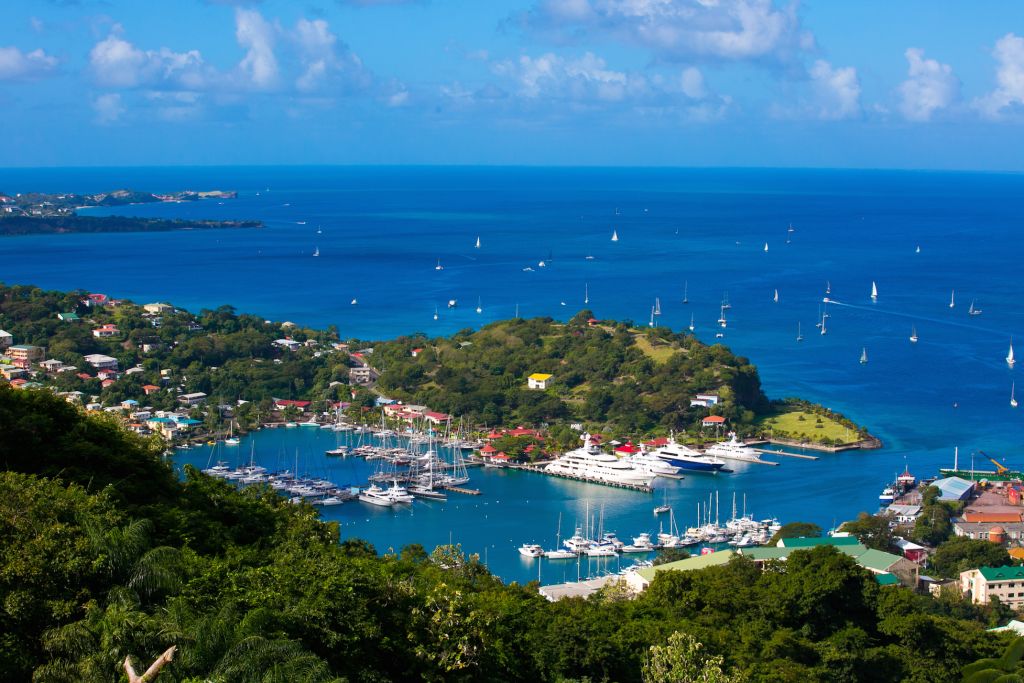 A warm spice island welcome is waiting for the RORC Transatlantic Race fleet and Childhood 1's line honours arrival © Camper & Nicholsons Port Louis Marina, Grenada
Camper & Nicholsons Port Louis Marina in Grenada is all set to welcome the early finishers in the RORC Transatlantic Race. VO65 Childhood 1 is expected to finish on Wednesday 4th December and will win the IMA Trophy for Monohull Line Honours. French Wally 100 Dark Shadow, skippered by Yerin Hobson is 400 miles behind Childhood 1. The fleet is reporting superb conditions surfing at high speeds in tropical heat.
Swedish VO65 Childhood 1 has been fully lit up for the blast to the finish, registering a 24-hour run of over 400nm. Skipper Bouwe Bekking contacted the media team via satellite: "We've had a max. breeze for a short period of 25 knots, but in general the wind is hovering between 18-22 knots. We've made good progress. The guests are starting to get used to the feeling of living in the deep south, with air and water temperatures of around 30ºC. Childhood 1 is also moving up in the overall standings, but it is still very hard to compare apples with pears. The smallest boat in the fleet is sailing in a completely different weather pattern and can take about double the amount of time to sail the same distance. They have been sailing close to the great circle route, so not many extra miles need to be covered. Remember they are racing double handed, so hats off for these two blokes, but if we beat them in the end, that would be a nice bonus," said Bekking.
Bouwe Bekking, Skipper of VO65 Childhood 1 talks about fitness levels required for racing and the RORC Transatlantic Race
Richard Palmer's British JPK 10.10 Jangada, racing Two Handed with Jeremy Waitt is also in big breeze. Jangada passed the halfway mark on the tenth day of racing and reported: "10 days in and we are surfing! Life onboard has changed to turbulent seas and 20 knot average wind speeds. There is a 2-3 metre swell coming at us from the side, whilst the wind has kicked up a 1m chop from astern. At times, both conspire to pitch us down a short steep face, barely enough to surf before the bow digs in to the next wave. We are each electing to steer by hand for three hours at a time and grateful that the moon is now brighter and setting later each night. "We have gybed and set a course almost directly to Grenada and changed down a gear to a smaller kite set on a lower halyard. It is inherently more stable and forgiving. We are not seeing any significant drop in performance as we average almost 9kts. The first half of the race was mentally challenging, focussed on weather forecasts and trying to keep the boat moving fast in light airs. The second half of the race will be physically challenging as we try to keep up the fast pace. "We have watched the Volvo 65, Childhood 1 chip away at our lead in IRC overall, finally overtaking us yesterday. Disappointing though that was, it has motivated us to keep up the pace. Once she crosses the line in the next day or so, we will then be racing the clock to finish ahead on corrected time. Until then we will enjoy surfing on the 4-tonne surfboard that is the JPK1010," Richard and Jeremy reported from Jangada.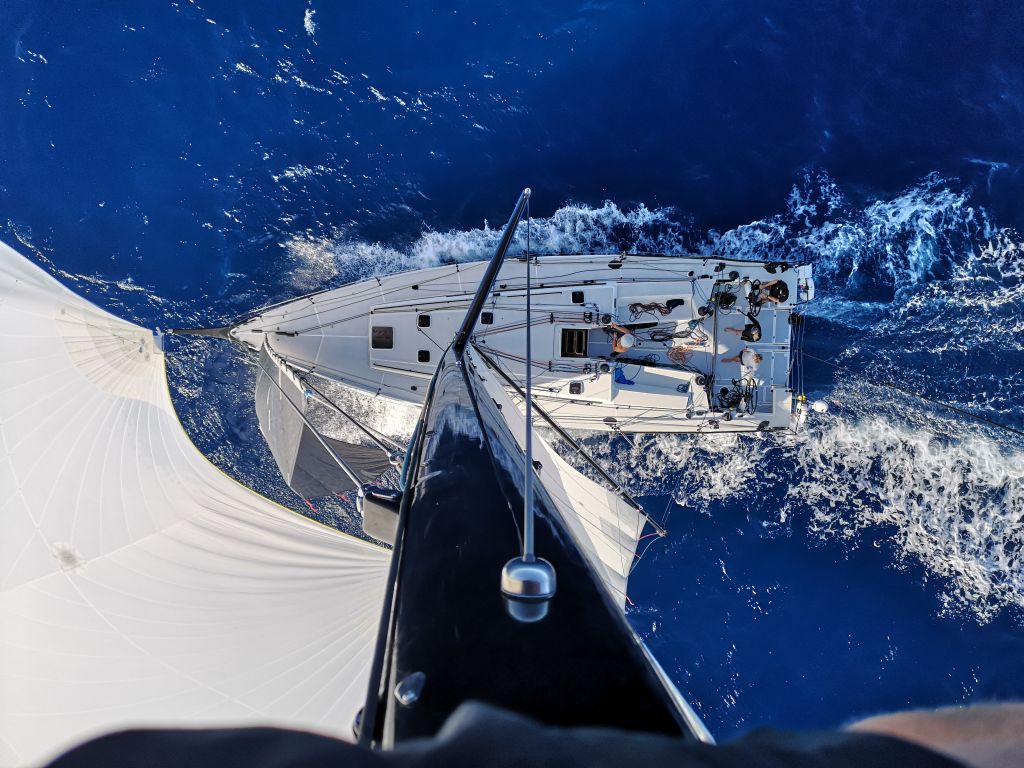 Atop of the mast - bluewater racing on board Pata Negra where the crew are enjoying blasting through the Atlantic swell © Pata Negra
Giles Redpath's Lombard 46 Pata Negra has being blasting through the Atlantic swell, recording 260nm in the last 24 hours. "Today we have been trucking along in winds of between 18 and 25 knots with a good swell helping with the averages! It's a bit cloudier than yesterday, but it's still 28 degrees. We've seen a couple of birds through the night, but other than the occasional flying fish attempting to join the crew, it has been a reasonably wildlife free day. We are quite happy with our progress west over the last few days and hope we will continue pressing on towards the Caribbean," says Calum Healey from on board Pata Negra.
Camper & Nicholsons Port Louis Marina is all set for the first finishers in the RORC Transatlantic Race. The luxury superyacht marina has 227 berths for yachts up to 300 feet and is located in the beautiful lagoon just outside St. George's, the capital of Grenada. Having undergone a refurbishment this year, the marina now has 90 new berths ranging from 12 metres to 22 metres on two new piers. The 'Spice Island' as Grenada is known, has superb beaches and the north of the island is unspoilt rain forest rising to 1000 metres above sea-level with spectacular waterfalls.
---