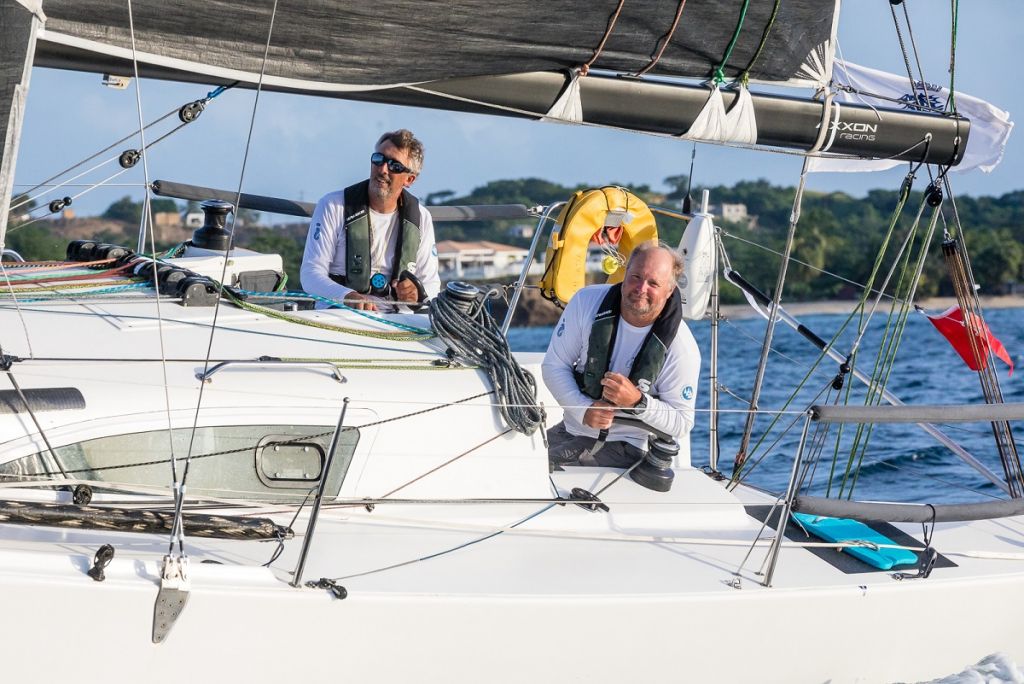 Overall winners, Jangada, approaching the finish line at Camper & Nicholsons Port Louis Marina, Grenada - Photo © RORC / Arthur Daniel
The 2019 RORC Transatlantic Race was an epic 3,000nm race in the wild blue Atlantic Ocean. Childhood 1 posted a 400nm 24-hour run on the way to taking line honours. There was high drama with a man overboard on Jangada, the smallest boat in the race, which was racing doublehanded. The crewman was recovered and Jangada went on to win the race overall under IRC, becoming the smallest yacht to win the race, and the first heroic win for a Two Handed team. All of the yachts received a fantastic send off from Marina Lanzarote and a warm welcome in Grenada from Camper & Nicholsons Port Louis Marina.
The 6th edition of the RORC Transatlantic Race, in association with the International Maxi Association (IMA), started from Calero Marinas - Marina Lanzarote on Saturday 23 November 2019 bound for Camper & Nicholsons Port Louis Marina, Grenada. Prior to the start of the 3,000 nautical mile race, a full programme of social activities included a welcome reception hosted by the Real Club Náutico de Arrecife and a gala dinner in the stunning surroundings of the unique volcanic caverns of Jameos del Agua.
The fast reaching start was ideal for Childhood 1, skippered by Bouwe Bekking. The Swedish VO65 was the first yacht to the mark off Puerto Calero Marina and hoisting their A3, blasted between Lanzarote and Fuerteventura. Childhood 1 chose to take the most southerly route of the fleet in search of breeze. The young guns on Giles Redpath's British Lombard 46 Pata Negra had to make a pit-stop. Skippered by Andy Lis, the team of six had a watermaker malfunction and stopped at El Hierro to take on drinking water for the race.
Dark Shadow approaching the finish line at Camper & Nicholsons Port Louis Marina, Grenada - Photo © RORC / Arthur Daniel
The French Wally 100 Dark Shadow was the early line honours and overall leader under IRC. Dark Shadow's David Martriano commented via satellite phone: "All is well on board and we are currently sailing in about 15 knots of breeze from the northeast. The conditions are beautiful, but last night the breeze was up and down which kept us busy with quite a few sail changes. We are now in good breeze and looking forward to some great sailing ahead."
The smallest boat in the fleet, Richard Palmer's British JPK 10.10 Jangada, got off to a great start. Palmer was racing Two Handed with Jeremy Waitt who commented on day two: "We are feeling positive as we head into the yonder and endless horizon. Routing has also settled a little so we have a plan on direction. We reached with jib top and staysail which made for a fast and easy sail overnight. We hoisted our spinnaker this morning and in theory for the rest of the race!"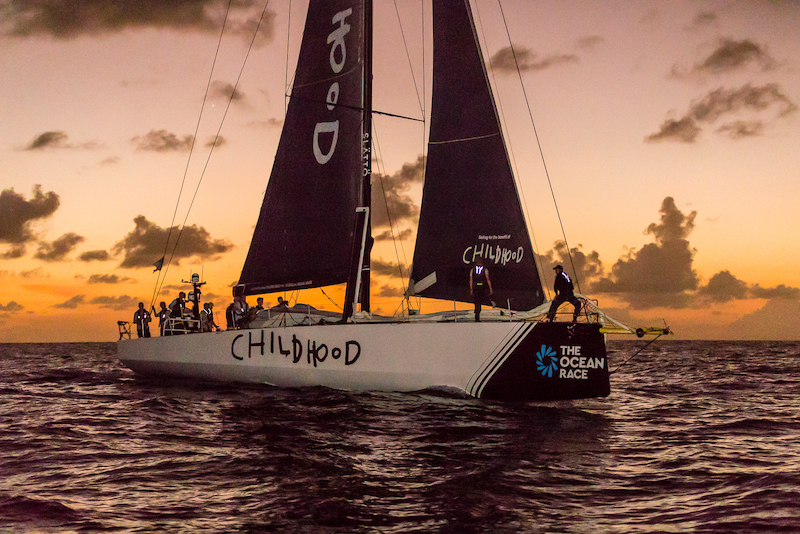 Childhood 1 approaching the finish line at Camper & Nicholsons Port Louis Marina, Grenada - Photo © RORC / Arthur Daniel
After nine days at sea all of the competing yachts were south of the rhumb line and into the vast expanse of the Atlantic Ocean. There was over 900nm of latitudinal separation as the boats employed different tactics. Jangada was furthest north and Childhood 1 furthest south. Childhood's deep dive south paid dividends to take the lead for line honours and Pata Negra came from behind to overtake Benedikt Clauberg's Swiss First 47.7 Kali.
"The relative southern route will pay off we think," commented Bouwe Bekking from Childhood 1 via sat.phone. "But it means adding a lot of extra miles to get to Grenada. That is always the trade-off you have to find. Further south is even more breeze, but we know the wind will turn more to the right, so if you go south too early you sail a massive outside banana!" Bouwe's prediction of more breeze came true, with Childhood 1 surfing at over 20 knots towards the finish. Dark Shadow could not keep up and fell back in excess of 200 miles.
By day 11 the fleet were at full pelt in the Atlantic, surfing down rollers in heaven-sent conditions. "We've had a max. breeze of 25 knots and we've made good progress," commented Bouwe Bekking from Childhood 1 after posting a 400nm 24-hour run. "The guests are starting to get used to the feeling of living in the deep south, with air and water temperatures of around 30ºC. The smallest boat in the fleet is sailing in a completely different weather pattern. They are racing double handed, so hats off to these two blokes, but if we beat them in the end, that would be a nice bonus," concluded Bekking.
Jangada was also in big breeze. "We are surfing! Life onboard has changed to turbulent seas and 20 knot average wind speeds. There is a 2-3 metre swell coming at us from the side, whilst the wind has kicked up a metre chop from astern. At times, both conspire to pitch us down a short steep face, barely enough to surf before the bow digs in to the next wave. We are each electing to steer by hand for three hours at a time. We are enjoying the 4-tonne surfboard that is Jangada!"
Pata Negra was being blasting through the Atlantic swell, recording 260nm in 24 hours. "Today we have been trucking along in winds of between 18 and 25 knots with a good swell helping with the averages!" said Pata Negra's Callum Healey.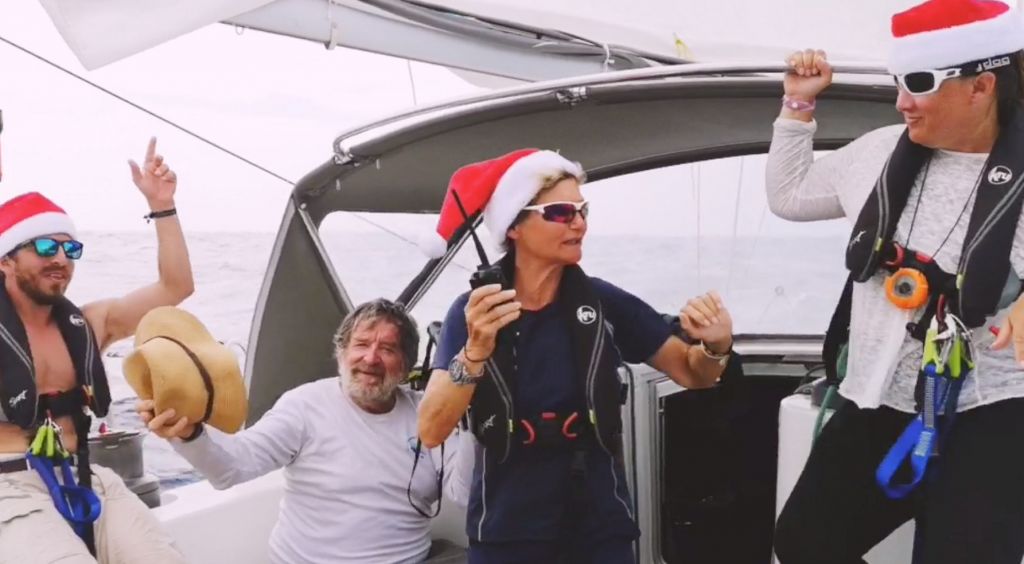 The mood on board Kali turned to celebrations on the 6th of December to celebrate the Feast of St Nicklaus with gifts of chocolate and a Caribbean style Boogie!
Swedish VO65 Childhood 1, skippered by Bouwe Bekking, took line honours in the 2019 RORC Transatlantic Race. Childhood 1 crossed the finish line outside Camper & Nicholsons Port Louis Marina, Grenada in an elapsed time of 11 days 11 hours 34 mins 49 secs. The International Maxi Association Secretary General, Andrew McIrvine presented Bouwe Bekking and the team with the IMA Trophy for Monohull Line Honours in the RORC Transatlantic Race. With cold beers and big cheers, Childhood 1 was welcomed by Charlotte Fairhead, Marina Manager and the team at Port Louis Marina. Nikoyan Roberts presented a basket of Grenadian goods on behalf of the Grenada Tourism Authority - all teams also received this basket of goodies on arrival.
Childhood 1's dive south meant the team racked up nearly 4,000nm in the race. The majority of the crew are young sailors with ambition to take part in The Ocean Race 2021-22. Childhood 1 is a new project racing for children's rights, raising awareness and funding for the Childhood Foundation. One of the project leaders, Pelle Norberg was part of the crew for the RORC Transatlantic Race:
"I have been sailing all my life but this is my first time across the Atlantic and racing with Bouwe has been a fantastic experience," commented Pelle Norberg. "The strategy with low pressure systems coming down from the north made the routing a bit difficult, but I think the tactics worked pretty well for us. This has been an amazing opportunity and a fantastic challenge. Every four hours you have to take your watch and everything is soaking wet, so that is a bit of a drama but we have had an absolutely incredible ride. In Sweden if you want to go to a sailors party, the only way you can have the right to wear red pants is if you have crossed the Atlantic!"
"I have never been to Grenada before and you always wonder where you are going to end up and Port Louis Marina is just splendid. We received a very warm welcome – Thank you Grenada," added Bekking.
French Wally 100 Dark Shadow finished the 2019 RORC Transatlantic Race on Friday 6th December in an elapsed time of 13 days 9 hours 11 mins and 3 secs. Dark Shadow was sailed by Andre Auberton-Herve (FRA) and skippered by Yerin Hobson (AUS).
"I did the transat almost 12 years ago with almost the same team. This time it was great and we enjoyed it, but we had tricky winds," commented Andre Auberton-Herve. "Racing with the RORC means great organisation at the departure and a great reception here. The transat was perfect, we love it, Dark Shadow was flying! We reached 25 knots finally and that was very nice. It was great to put the team back together – The Expendables Transat!"
Giles Redpath's British Lombard 46 Pata Negra, skippered by Andy Lis finished the 2019 RORC Transatlantic Race on Monday 9 December in an elapsed time of 15 days 22 hrs 58 mins 13 secs. This was the first time any of the Pata Negra crew had been to Grenada and the young team, aged 20-27 years old, enjoyed a full breakfast at Port Louis Marina and chilled out at the marina pool to unwind. The team spent a few days exploring the island's bars and restaurants, as well as the stunning waterfalls in Grenada's tropical rainforest.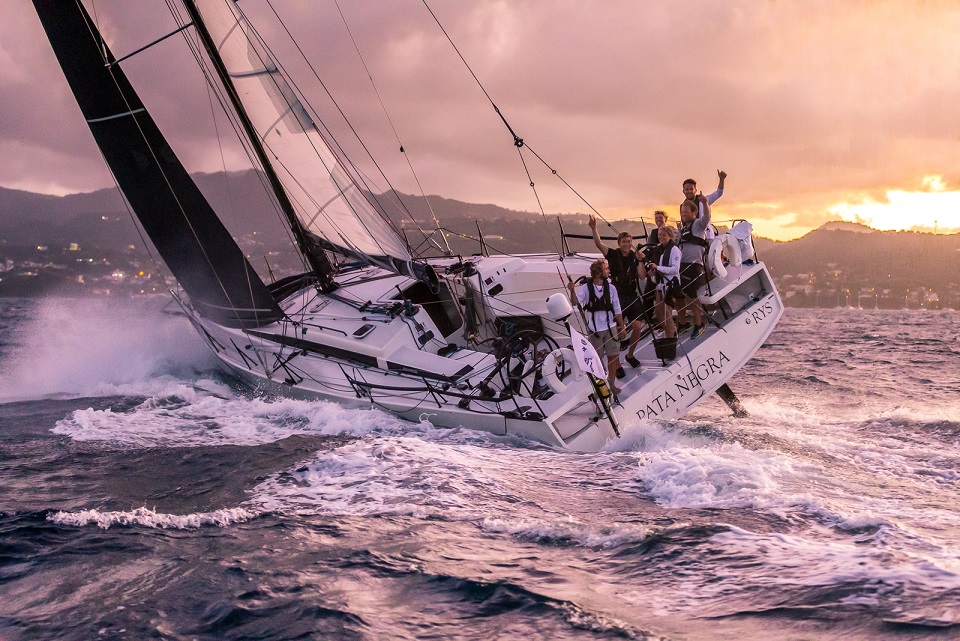 Pata Negra approaching the finish line at Camper & Nicholsons Port Louis Marina, Grenada - Photo © RORC / Arthur Daniel
"That was quite an adventure," commented Andy Lis. "Besides myself, this is the first time in the Caribbean for the rest of the crew. The most memorable moment for me was the boat flying through a squall - it was bucketing with rain and the sea went from a 4-metre swell to nothing, with the breeze pumping."
Richard Palmer's British JPK 10.10 Jangada was presented with the RORC Transatlantic Trophy in Grenada at a ceremony and prize-giving banquet held at Camper & Nicholsons' Victory Bar and Restaurant. Racing Two Handed with Jeremy Waitt, Jangada scored the best corrected time under IRC to win the race overall and completed the 3,000nm race in 17 days 10 hrs 11 mins 06 secs. Jangada is the first Two handed team to win the antique sterling silver trophy, as well as the smallest boat to do so.
"This win absolutely exceeded all our expectations – a great start to the season!" commented Jangada's owner, Richard Palmer. "The competition out there certainly gave us a run for our money - Childhood 1 was doing 20 knots and we could never match that speed, and Pata Negra 12 knots, but we just said 'bring it on' and we raced hard all the way to the finish. Persistence and perseverance were the key to keep going for each three-hour watch. It was hard work but it paid off. It is absolutely fabulous to be back at Port Louis Marina in Grenada. We were here two years ago and we are looking forward to celebrating for a few days."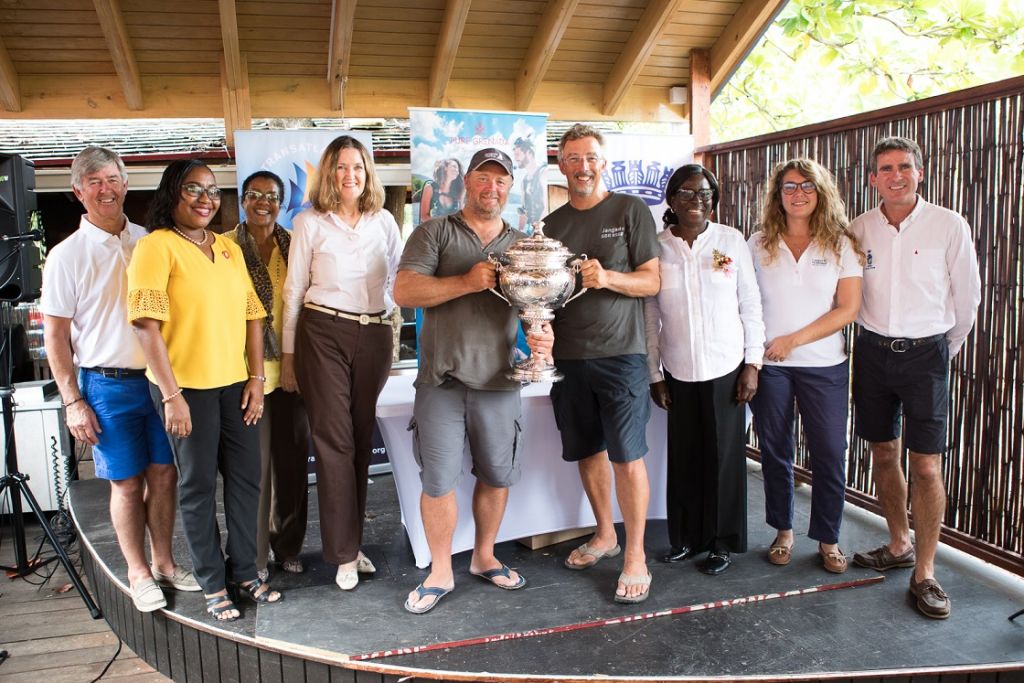 Guest of honour at the prizegiving was Dr Clarice Modeste-Curwen, Minister for Tourism and Civil Aviation. Honoured guests included Patricia Maher, CEO of the Grenada Tourism Authority, Nikoyan Roberts, Manager of Nautical Development for Grenada, Assistant Chinel Sandy, and Charlotte Fairhead, Port Louis Marina Manager.
About 1,000nm from Grenada, Jeremy Waitt fell overboard while re-setting a twisted spinnaker. Jeremy was clipped onto the boat using a tether which is a requirement for all RORC offshore races. The sea state was up and had Jeremy not been tethered to Jangada, he would have disappeared from sight very quickly.
"A wave caught us and I went straight over the side," explained Waitt. "I was being dragged at seven knots and that is a moment when you think about a few things, when you are in the middle of the ocean. The survival gene kicks in fairly quickly and it was a good bit of team work to get back on board. I have a few bruises but I don't think Richard was too impressed as I was slowing the boat down! When I was safely back on board, Richard said, 'shall we have a cup of tea?' I replied, let's get the spinnaker back up first!"
Benedikt Clauberg's Swiss First 47.7 Kali was the final boat to finish the race. Crossing the line at 19:28:19 UTC on 11 December the crew were in time to join the prize-giving party and will also celebrate finishing the race for the second year in a row, beating their previous elapsed time by 18 hours.
"It feels great to beat our time from last year as we have been working hard on the performance of the boat," commented Kali's Benedikt Clauberg. "This year was much harder due to a lot of squalls, but we have a very enthusiastic team who wanted to change sails even when they were tired, and that made a difference. We are here for the Caribbean season and it feels like coming home when we arrived in Grenada because we know Charlotte (Fairhead) and all the Port Louis Marina staff."
Kali was the last yacht to finish the 2019 RORC Transatlantic Race and will be competing at regattas in the region. All of the yachts competing in the RORC Transatlantic Race have expressed their intention to compete in the RORC Caribbean 600 which will start from Fort Charlotte Antigua on Monday 24th February, 2019.
Results -
http://rorctransatlantic.rorc.org/results/2019-results.html
Photo Gallery -
http://gallery.rorc.org/v/2019/rorc-transatlantic-race/
Facebook -
https://www.facebook.com/RoyalOceanRacingClub/
Instagram -
https://www.instagram.com/rorcracing
/
YouTube -
https://www.youtube.com/playlist?list=PLaDY-bl-fbDkDWlEyYfMC9-o6CNBo6R7O
---