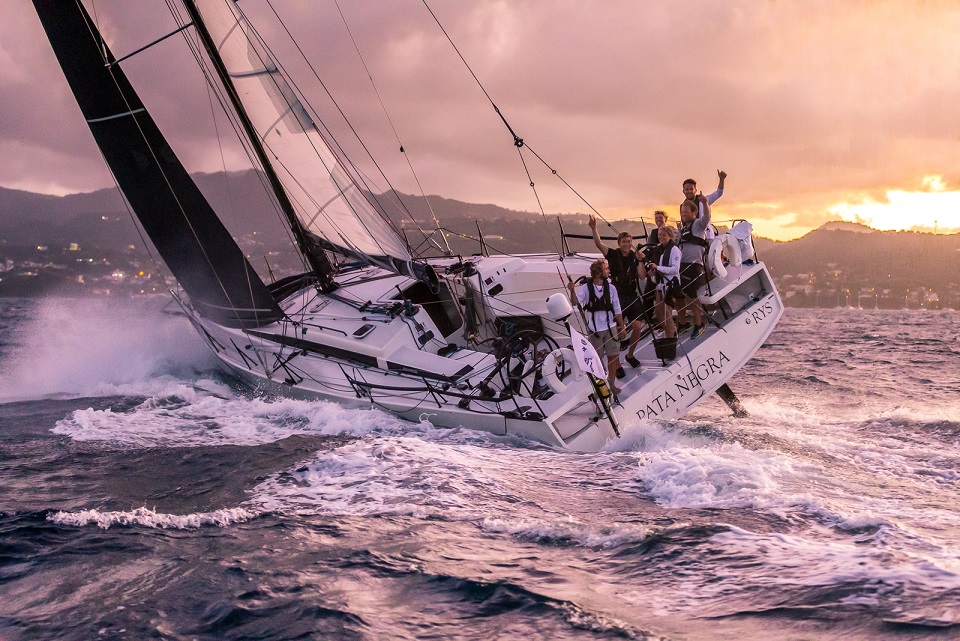 All smiles in Grenada - Andy Lis and the young crew racing on Giles Redpath's Lombard 46 Pata Negra completed the RORC Transatlantic Race in an elapsed time of 15 days 22 hrs 58 mins 13 secs © RORC/Arthur Daniel
Giles Redpath's British Lombard 46 Pata Negra, skippered by Andy Lis, finished the 2019 RORC Transatlantic Race on Monday 09 December in an elapsed time of 15 days 22 hrs 58 mins 13 secs. The team on Pata Negra received a warm welcome on the dock this morning at Camper & Nicholsons Port Louis Marina from RORC CEO, Eddie Warden Owen, Marina Manager, Charlotte Bonin - who provided ice cold beers, and Nikoyan Roberts from the Grenada Tourism Authority who presented the young crew with a basket of local goodies.
Pata Negra had to make a pit stop early in the race due to a watermaker malfunction, however, they are still in with a chance of winning the race overall under IRC, having posted the best corrected time of the finishers to date.
Next to complete the race from Lanzarote to Grenada will almost certainly be Richard Palmer's British JPK 10.10 Jangada. Richard is racing Two Handed with Jeremy Waitt and Jangada is estimated to not only finish the race on Tuesday 10 December but to be 20 hours ahead of Pata Negra after IRC time correction. To win the RORC Transatlantic Race Trophy, Jangada must finish the race by 20:51 UTC Wednesday 11th December, 2019.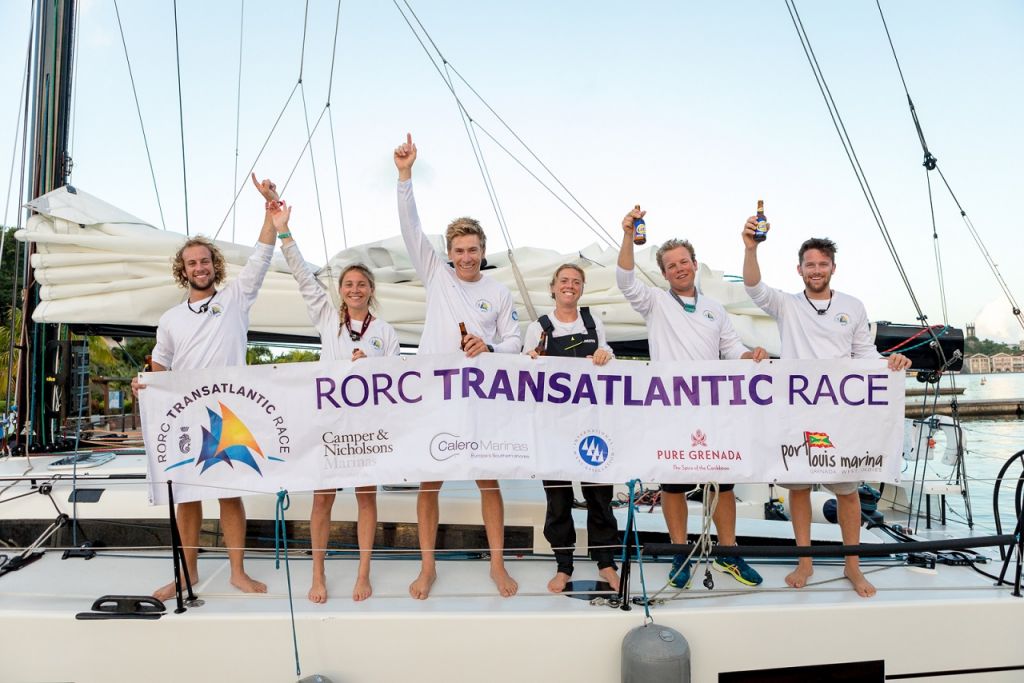 Team Pata Negra: Conor Totterdell, Cat Hunt, Will Harris, Amy Seabright, Andy Lis and Calum Healey celebrate with an ice cold beer on arrival in Grenada © RORC/Arthur Daniel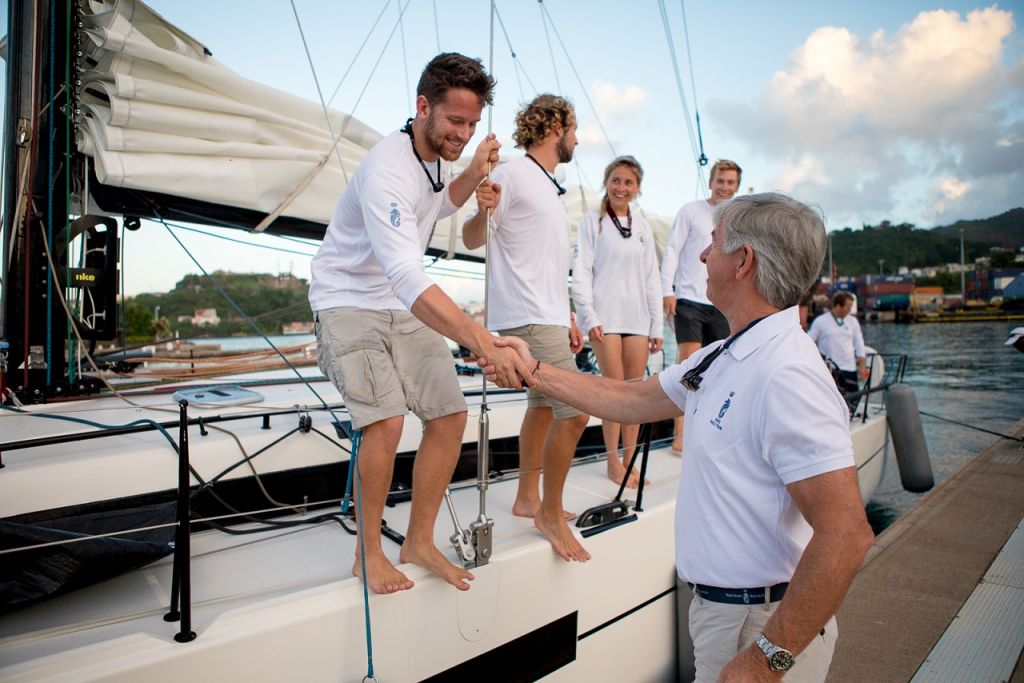 RORC CEO, Eddie Warden Owen welcomes Pata Negra to Grenada © RORC/Arthur Daniel
This was the first time any of the Pata Negra crew have been to Grenada and the young team, aged 20-27 years old, enjoyed a full breakfast at Port Louis Marina and chilled out at the marina pool. Over the next few days they intend to unwind and explore the island.
Dockside Grenada: Pata Negra crew share their thoughts on the 2019 RORC Transatlantic Race © Louay Habib
"That was quite an adventure," commented Andy Lis. "Besides myself, this is the first time in the Caribbean for the rest of the crew. The most memorable moment for me was the boat flying through a squall - it was bucketing with rain and the sea went from a 4 metre swell to nothing, with the breeze pumping."
"It was weird going upwind through the finish, having sailed downwind for the longest that I can remember, and I will always recall getting hit in the mouth by a flying fish! " commented Calum Healey."
"Dolphins in phosphorescence was so cool, the whole sea around us lit up," commented Amy Seabright who is part of the British Sailing Team, racing the 470 class. "This was my first offshore race and it was testing times. I had to rely quite heavily on this group of people. This was more than just a race for us, we had so many things to deal with - stopping the boat cost us maybe 18 hours, and Calum was up the mast a few times to fix halyards, and we blew out sails, but we managed to overcome all our problems and I am really proud that our team managed to do that."
"My speed record on the helm didn't last as long as I would have liked," explained Cat Hunt. "It's pretty special on the helm out in the Atlantic doing 20 knots. Even though there was so much wind, Pata Negra has so much control and it doesn't feel like you are going at such speed, which is so cool."
"Just an epic race," commented Conor Totterdell. "Getting into the breeze with the kite up was just fantastic. We pushed hard all the way because we could do the maths and know how we were fairing against the opposition. Fair play to the two guys on Jangada - it is hard core to do this race two handed and if they win, they will have our admiration."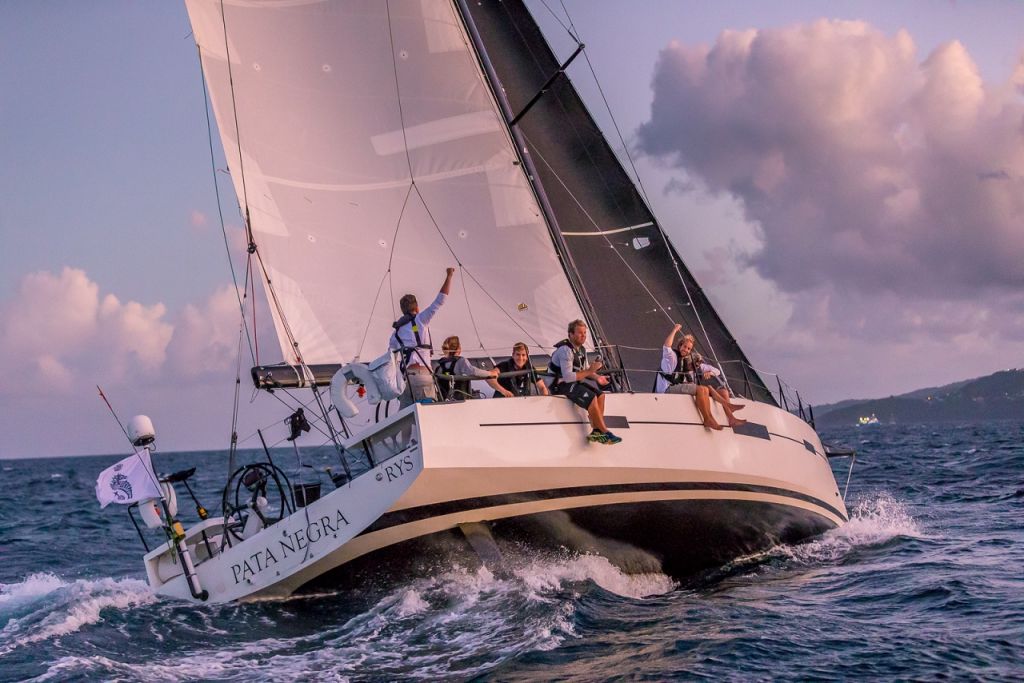 Pata Negra cross the finish line of Camper & Nicholsons Port Louis Marina in the 2019 RORC Transatlantic Race © RORC/Arthur Daniel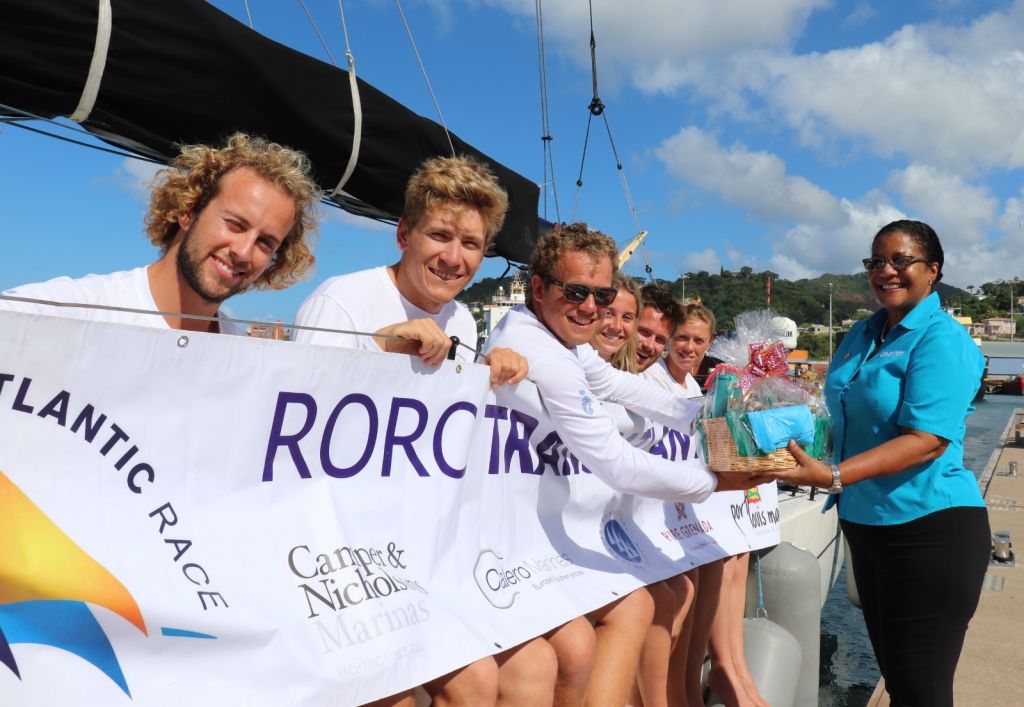 Andy Lis and the crew of Pata Negra receive a basket of Grenadian goods from Nikoyan Roberts, Grenada Tourism Authority after completing the 2019 RORC Transatlantic Race © RORC/Louay Habib
---