Luke Berry on Olivier Magre's Class40 Palanad 3 reports in from the RORC Transatlantic Race and the perils of Sargassum seaweed @luke_berry_sailing/@palanad3_sailingteam - RORC YouTube - https://youtu.be/cmIsrUeq1Bo
The RORC Transatlantic Race reaches an exciting stage on the ninth day with the leading boats closing in on the finish line in Antigua. Oren Nataf's Multi50 Trimaran Rayon Vert, skippered by Alex Pella was under 400 miles from the finish and expected to take Multihull Line Honours on Monday 18th January. Johannes Schwarz's Volvo 70 Green Dragon is leading the race for Monohull Line Honours and was approximately 500 miles from Antigua.
Olivier Magre's Class40 Palanad 3 was just 60 miles behind Green Dragon and is expected to finish the 2,735 nautical mile race in just over 10 days - lightning-quick for a 40-footer. "The boat is going fast!" commented Palanad 3's Luke Berry. "The only problem we have is the seaweed. We clean the rudder after a gybe, but have also resorted to taking the kite down and trying to sail backwards. All is good, so we mustn't complain!"
RORC Transatlantic - Night riders
Half of the time, racing in the 2,735-mile RORC Transatlantic Race is conducted at night. Whilst moonlight can guide the way, it becomes much more difficult to see, let alone adapt to a sudden change in conditions. For this race, in messages sent back to the RORC Race Team, competitors have reported significant squall activity, especially at night.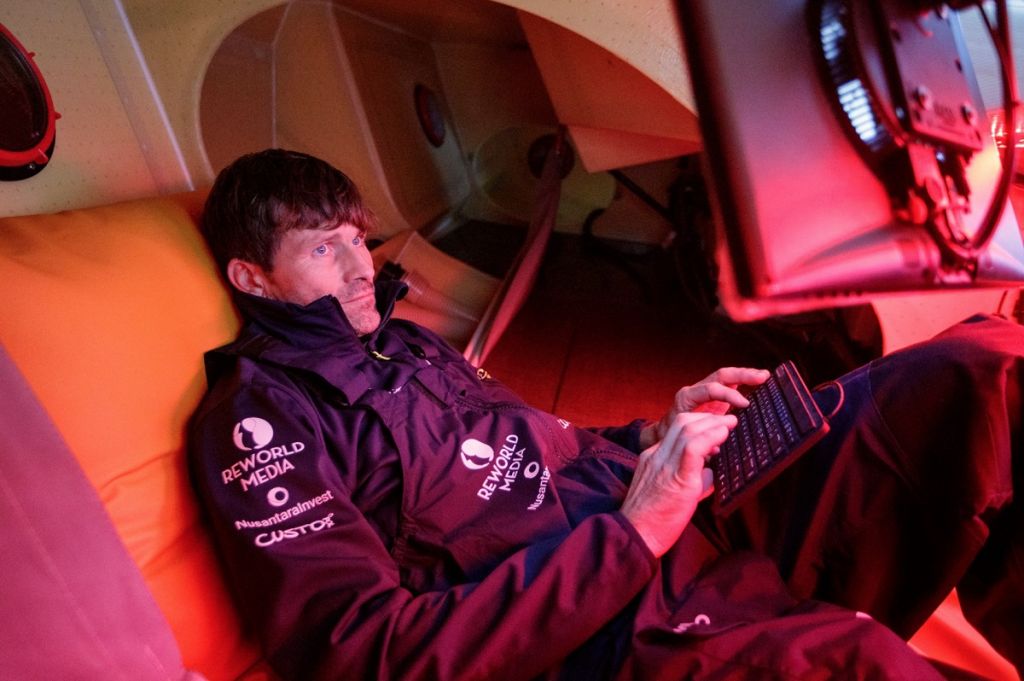 Keeping track of their rivals and trying to keep motivated on board Antoine Carpentier's Class40 Redman © Antoine Carpentier Sailing
Antoine Carpentier's Class40 Redman looks unlikely to catch their sistership Palanad 3 in the race to the finish. In his recent blog, Carpentier describes the frustration at night on Day 8. "Last night was not good for us (Saturday 16 Jan.). A local cloud formed sucking the wind from 20 knots down to just six knots and shifting 90 degrees. In torrential rain we put in a series of gybes to get out of the position; there was no sleep for the Redman crew. When we looked at the race sched. updates and saw our friends on Palanad 3 had not lost any speed, we were green with envy. How to stay motivated? All our efforts to get the boat to move as quickly as possible will have been in vain if we give up."
Sebastien Saulnier's Sun Fast 3300 Moshimoshi gybed on to starboard on Saturday evening. In the last 48 hours, Moshimoshi has turned a 16-mile deficit into a 40-mile lead on Benedikt Clauberg's First 47.7 Kali.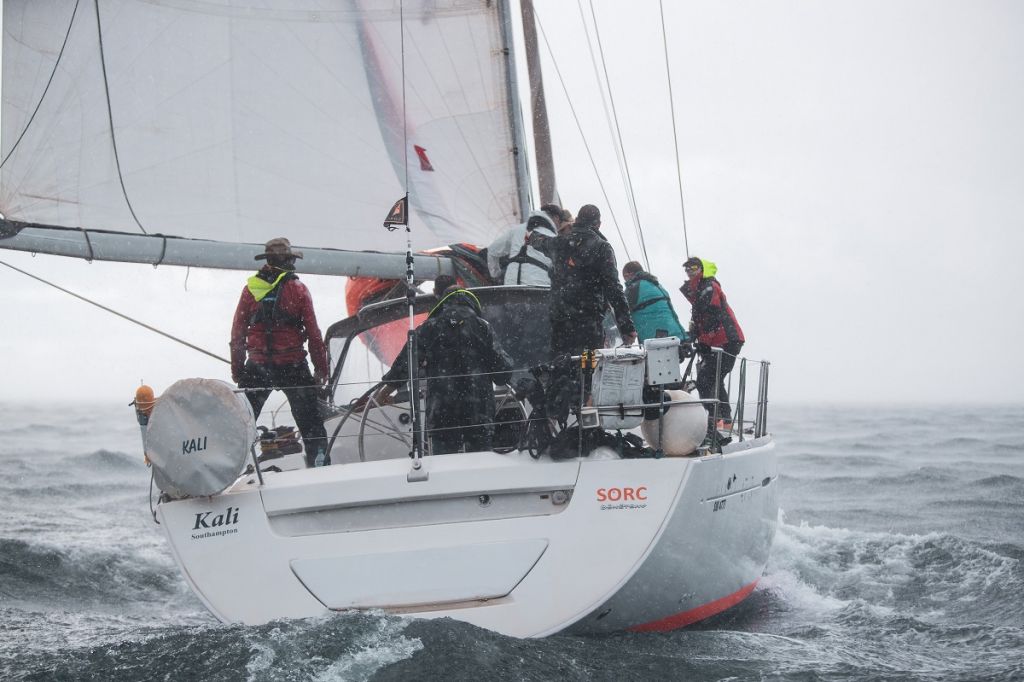 Benedikt Clauberg's First 47.7 - Battling night squalls on Kali © James Mitchell/RORC
Benedikt Clauberg commented via satellite about encountering a squall in darkness, which has dramatically affected their performance: "At night without the moon it is so dark that we don't see even one boat length in front of us, watching only the compass and wind instruments. If the clouds arrive it becomes more than black and the wind can pick up very quick. After surfing at up to 13kts we got hit hard by a strong gust with rain and ripped our spinnaker. With everyone clipped on we got it down and went into cruising mode for the rest of the night. Today the sun is back but we are now in 'Schmetterling' mode as we say in Swiss, or wing-on-wing. Otherwise, all is good on board. The crew had a salty shower and are having fun and we see birds and flying fish. Dinner is a Porcini Risotto with a tomato mozzarella salad caprese. We hope you all are fine and no bad news on the other side."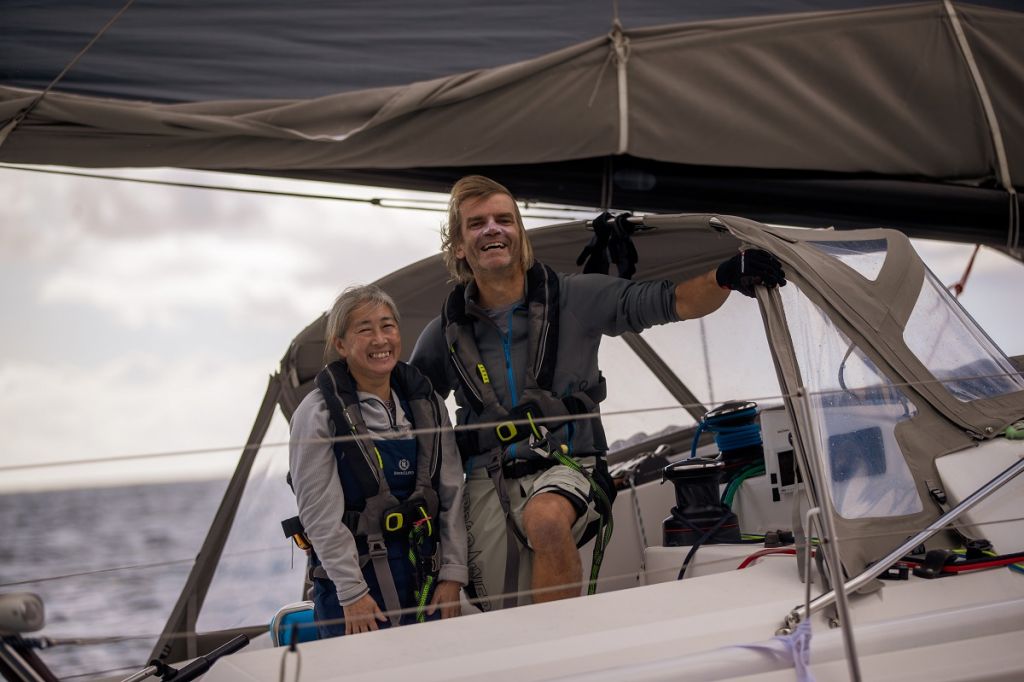 Approaching the halfway mark - Tim and Mayumi Knight, racing Pogo 12.50 Kai © James Mitchell/RORC
News from Tim and Mayumi Knight, racing Pogo 12.50 Kai is that they have been racing conservatively due to a gear problem. However, the latest news from Tim is: "Much of our problem has been sorted out and we are back sailing less cautiously with a target speed of 7-8 knots. Kai was approaching halfway in the race and 1,560 miles from the finish.
Track the fleet, follow the race updates via the website and RORC social media, or download the YB Races App:-
Twitter: #RorcTransatlanticRace @RORCracing
#RORCTransatlanticRace
100,000+ armchair sailors have signed up
---