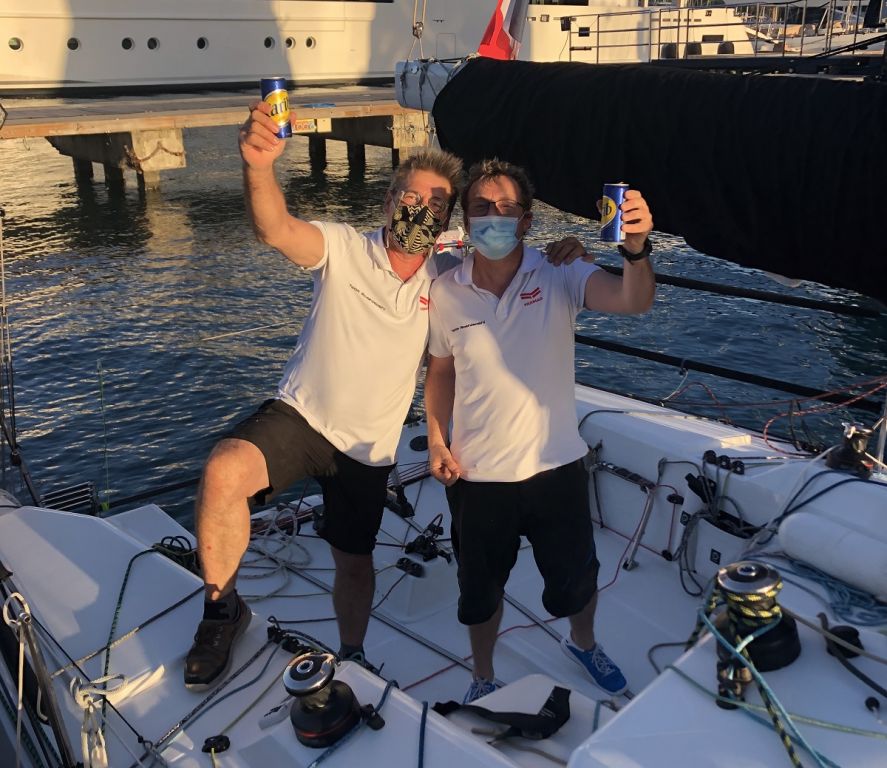 Enjoying a cold beer in Antigua after finishing the RORC Transatlantic Race: Sebastien Saulnier (R) and Christophe Affolter (L) racing Sun Fast 3300 Moshimoshi © Helen Spooner/RORC
Sebastien Saulnier's Sun Fast 3300 Moshimoshi crossed the finish line of the RORC Transatlantic Race at 20:12 UTC in an elapsed time of 15 days, 9 hours, 12 mins and 20 secs. Racing with Christophe Affolter, Moshimoshi is the first team to finish the race in IRC Two-Handed. Two years ago, Sebastien and Christophe started to put together the project to race double handed across the Atlantic. The pair were elated to finish the 2,735-mile race from Puerto Calero, Lanzarote to Antigua, West Indies.
"We arrived in Antigua to be welcomed with cold beer, which was perfect!" exclaimed Sebastien Saulnier. "We are very happy to succeed because when we started the race we were very tired after sailing the boat to Lanzarote from France. The first night was the most difficult with big waves and strong wind; we got a big gust and broached. Christophe was down to leeward and there was so much water that his lifejacket inflated! The rough conditions continued for the second day, but after that we got into the rhythm. We averaged over 8 knots for the race, which is quick for a small boat! We would have been faster but we broke our big spinnaker 48 hours into the race. Christophe and I are very proud that we have finished the race. I want to say a big thank you to the RORC for their organisation and being so quick to respond by email during the race."
The next boat expected to finish the race will be Benedikt Clauberg's First 47.7 Kali, estimated to arrive in Antigua before sunset on Monday 25th January. Kali's blog gives a glimpse of life on board: "We managed to sail almost 200nm in the last 24 hours and the reggae tunes are already in the sound system. Unfortunately, there will not be a stage and a band playing this time when arrive. Before sunset, the best moment is to take a shower and clean off all the sun cream mixed with sweat. We shower sitting on the transom, tied on with our feet in the water."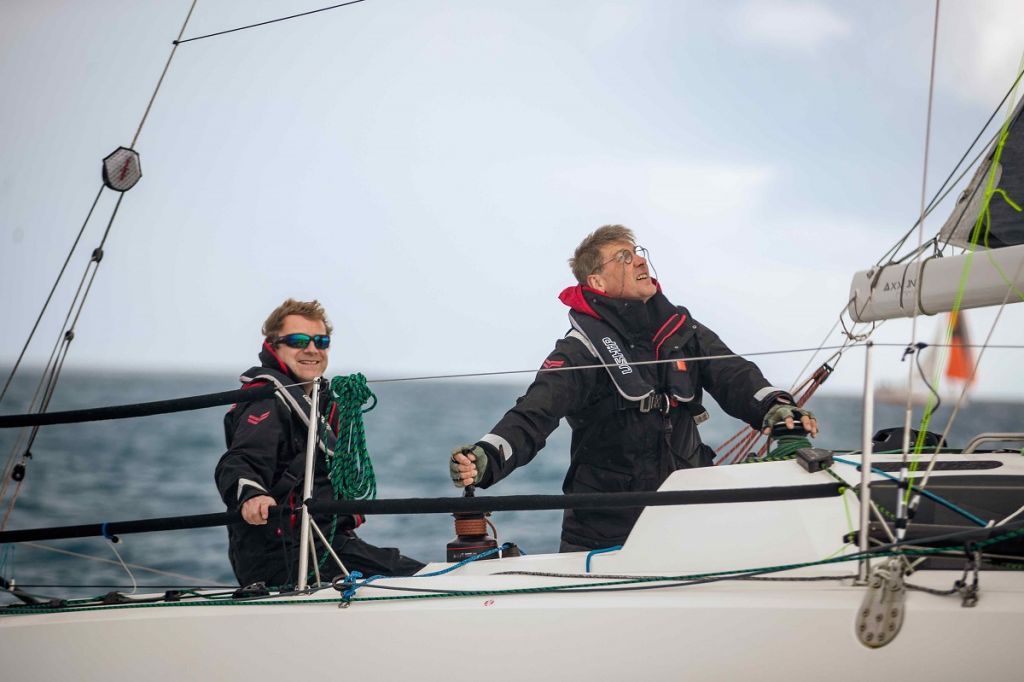 Racing from Lanzarote to Antigua, the French duo took 15d 9h 12m 20s - racing 2,934nm © James Mitchell/RORC
On Day 17 of the RORC Transatlantic Race, Tim and Mayumi Knight racing Pogo 12.50 Kai were approximately 600 miles from the finish.
Track the fleet, follow the race updates via the website and RORC social media, or download the YB Races App:-
Twitter: #RorcTransatlanticRace @RORCracing
#RORCTransatlanticRace
100,000+ armchair sailors have signed up
---