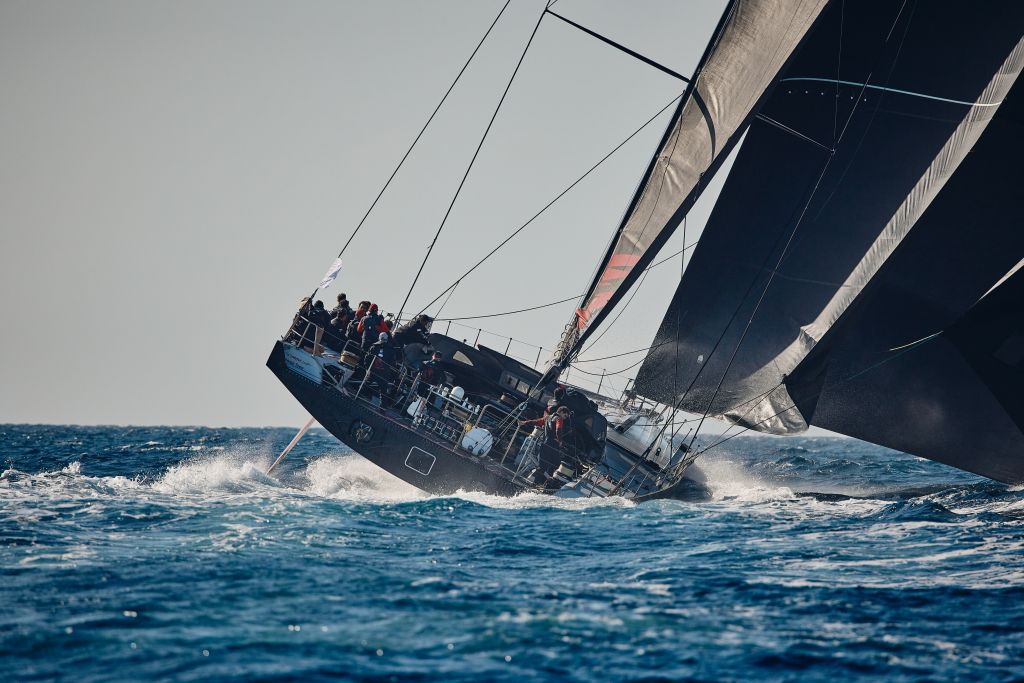 High Five - Comanche blasted across the Atlantic from Lanzarote to Grenada in the 2022 RORC Transatlantic Race to set not only a new race record, but to claim overall victory, line honours, class win and the Yacht Club de France Trophy © James Mitchell/RORC
The 30.48m (100ft) VPLP Design/Verdier Maxi Comanche (CAY), skippered by Mitch Booth has achieved the quintuple for the 2022 RORC Transatlantic Race. While three boats are still racing under IRC, none of them can beat Comanche's corrected time for the RORC Transatlantic Race Trophy. Comanche is also the winner of the IMA Trophy for Monohull Line Honours, IRC Super Zero and Yacht Club de France Trophy. Comanche has also set a new Monohull Race Record for the RORC Transatlantic Race of 7 days 22 hours 1 minute 4 seconds. Comanche has also set a new Monohull Race Record for the RORC Transatlantic Race of 7 days 22 hours 1 minute 4 seconds and with it established the Fully Crewed IRCRecords™ corrected time record of 16 days 0 hours 12 minutes 57seconds.
The 2022 RORC Transatlantic Race was a complex challenge with several low-pressure systems disrupting the trade winds. However, three teams, all from different IRC classes produced a thrilling battle for overall victory. Ross Applebey's Oyster 48 Scarlet Oyster (GBR) was second overall by just over an hour. David Collins' Botin 52 Tala (GBR) was third, less than two minutes behind Scarlet Oyster after IRC time correction. Comanche's skipper Mitch Booth was delighted to receive confirmation of their overall win for the 2022 RORC Transatlantic Race:
"For any offshore race the aim for Comanche is to take Monohull Line Honours and break race records, which we achieved when we crossed the finish line," commented Mitch Booth. "Comanche is not optimised for IRC, we just go for speed. So, to win this race overall just ticks every box, which for the owners is just fantastic. They are busy guys with big businesses, but they have followed us every step of the way. Winning the RORC Transatlantic Race Trophy shows just how strong and hard the crew have pushed the boat; we never let up. All credit to Scarlet Oyster and Tala who must have pushed just as hard."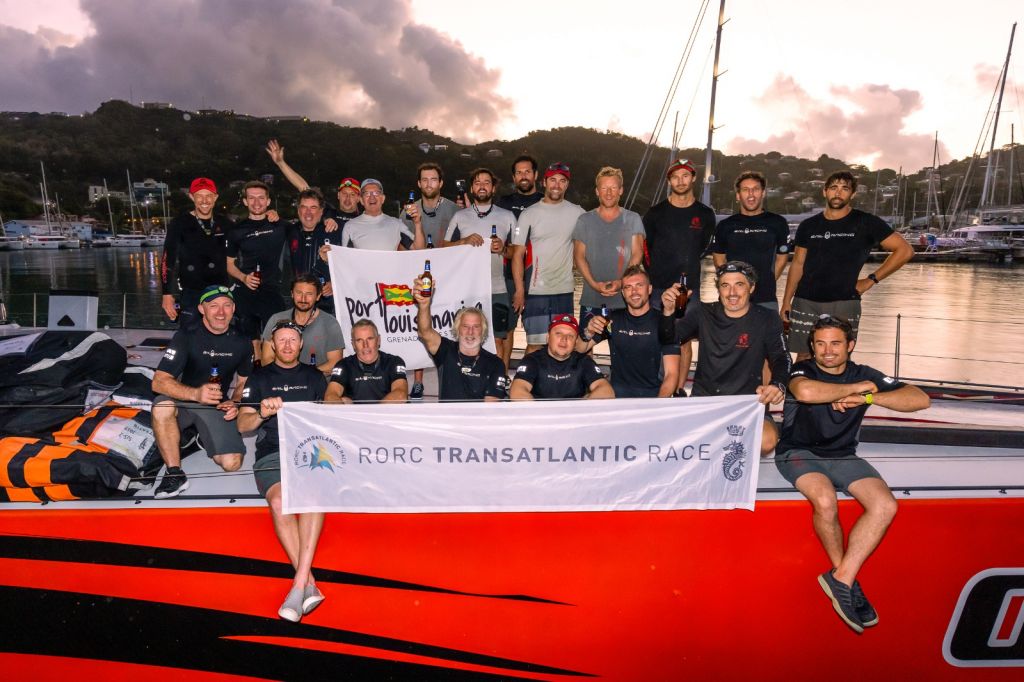 Above - Team Comanche: Guillermo Altadill Fischer (ES), Mitch Booth (AU), Diogo Cayolla (PT), Pete Cumming (GB), Dom Davies (GB), Damien Durchon (FR), Shannon Falcone (AG), Pavlo Kalynchev (UA), Alexei Kapustin (RU), Pavel Karachov (RU), Campbell Knox (AU), Petr Lipa (RU), Lago Lopez Marra (ES), Paul Magee (AU), Will Oxley (AU), Corrado Rossignoli (IT), Louis Sinclair (AG), Justin Slattery (IE), Eduard van Lierde (NL), Rudi van Velzen (ZA), Konstantin Vasilev (RU), Daryl Wislang (NZ) © Arthur Daniel/RORC
Below - Mid-Atlantic drone captures the mighty Comanche en route to winning the 2022 RORC Transatlantic Race Trophy © Shannon Falcone @racingSF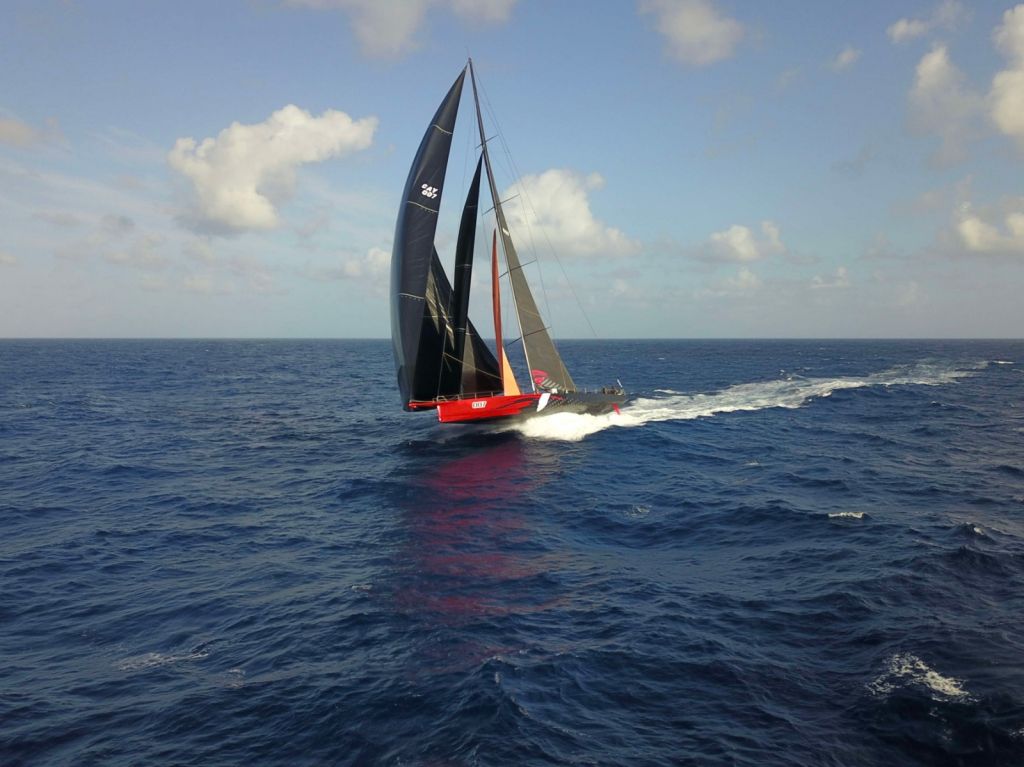 For the RORC Transatlantic Race, Comanche had 22 crew from 13 different countries. The most crew from any country was four from Russia.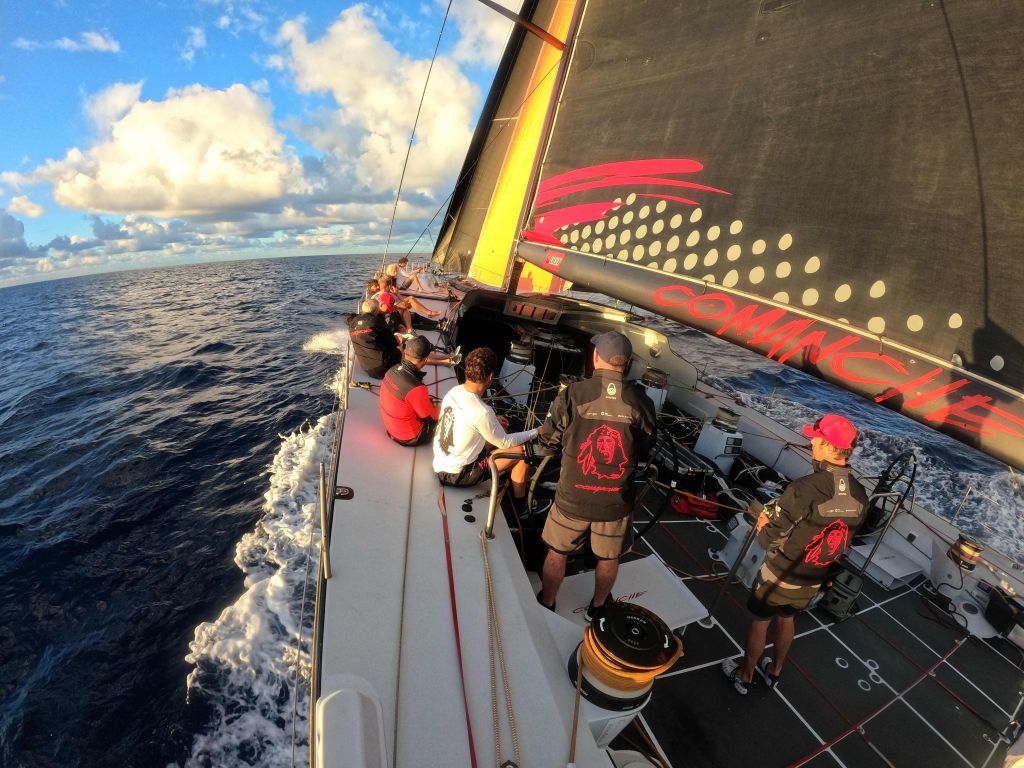 "Comanche is Russian owned and the ethos is to bring on Russian sailors, and they have really started to gel into the team," commented Booth. "There is a good mix of top dinghy sailors and offshore crew that have done multiple round the world races. The experienced crew teach those new to offshore sailing; they show them what it is all about. By the end of this race there were smiles all around. All crew share positions on the boat, this gives everyone the opportunity to learn every role. The Russian crew are very excited to be part of that and this enthusiasm and excellent teaching works really well.
"This has been a very special win for Comanche. All credit to the RORC, they have been organising races for a very long time and we really appreciate such a high-level of race management, before, during and after the race. The attention to detail and level of safety is second to none," concluded Booth.
Team Comanche: Guillermo Altadill Fischer (ES), Mitch Booth (AU), Diogo Cayolla (PT), Pete Cumming (GB), Dom Davies (GB), Damien Durchon (FR), Shannon Falcone (AG), Pavlo Kalynchev (UA), Alexei Kapustin (RU), Pavel Karachov (RU), Campbell Knox (AU), Petr Lipa (RU), Lago Lopez Marra (ES), Paul Magee (AU), Will Oxley (AU), Corrado Rossignoli (IT), Louis Sinclair, (AG), Justin Slattery (IE), Eduard van Lierde (NL), Rudi van Velzen (ZA), Konstantin Vasilev (RU), Daryl Wislang (NZ)
Top, right - Sunset in the Atlantic on board Comanche during the RORC Transatlantic Race © @racingSF; Above - RORC YouTube - Skipper Mitch Booth talks about their race after finishing in Grenada: https://youtu.be/90joFT3GZTI Credits: RORC/Arthur Daniel. Comanche/Shannon Falcone @racingSF
Below - Mitch Booth receives the fine silver IMA Trophy for monohull line honours from Secretary General, Andrew McIrvine © Arthur Daniel/RORC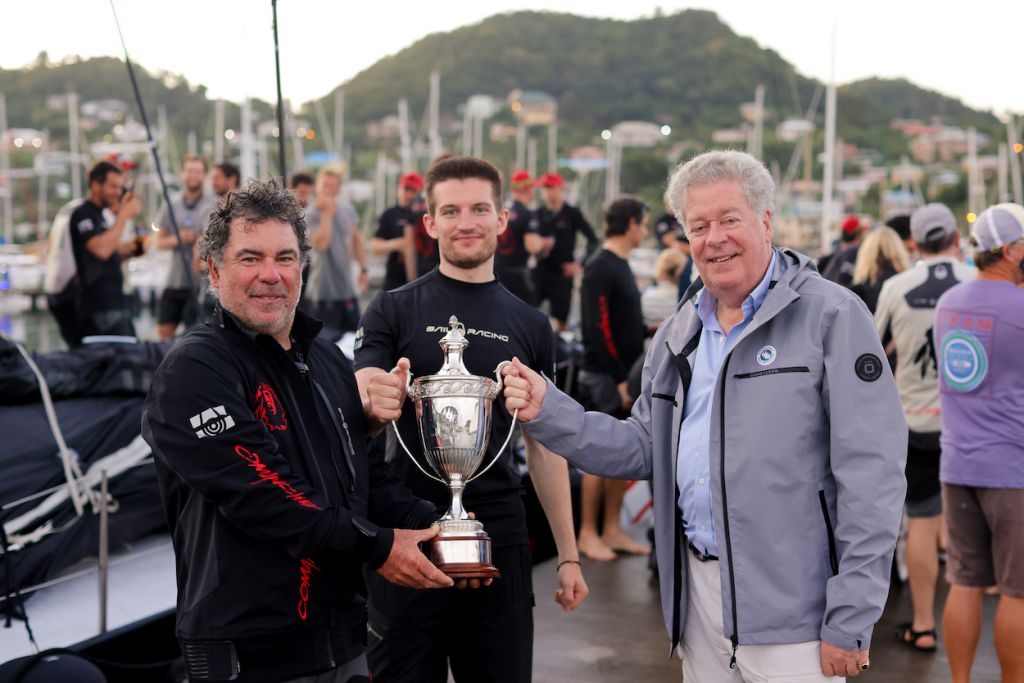 ---