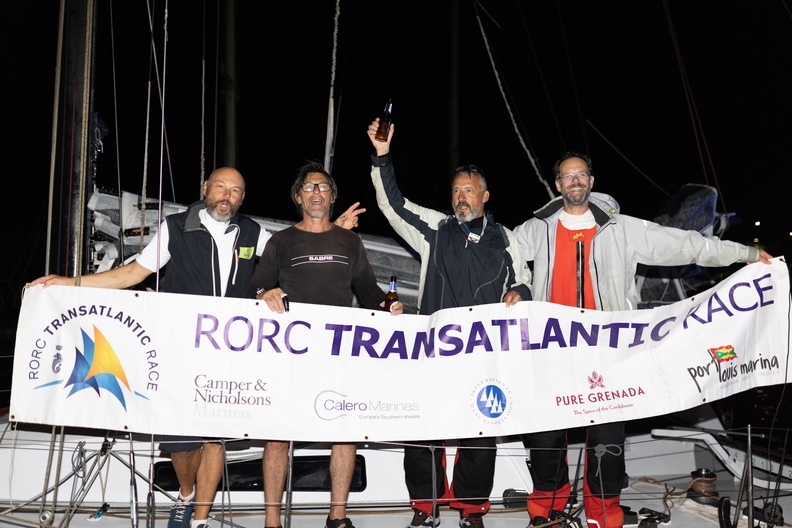 On Monday 23rd January, dockside celebrations continued at Camper & Nicholsons Port Louis Marina in Grenada as the Czechia and Slovakia team on Miroslav Jakubcik and Marek Culen's Akilaria 40 Sabre II finished the RORC Transatlantic Race at 03:18:57 UTC. The smallest boat competing in IRC Zero covered the 3,000nm race in an elapsed time of 14 days 13 hrs 08 mins 57 secs. Co-skippers Miroslav and Marek have raced against each other since childhood, but joined forces for their first transatlantic crossing, joined by crew members Tomas Zima and Ivan Cernosek.
Five hours later, Laurent Courbin's First 53 Yagiza (FRA), skippered by Philippe Falle were also welcomed to the dock with an ice-cold beer and warm Grenadian welcome, in the early hours of the morning in Grenada. Congratulations to the team on Yagiza which finished the race in just over 14 days 18 hours. On Tuesday 24th, Lionel Regnier's 58ft Philippe Briand-designed L'Esprit D'Equipe finished the RORC Transatlantic Race with an elapsed time of 16 days 2 hrs 9 mins and 47 secs. With this crossing, Lionel Régnier has now completed 14 transatlantic races, including winning the OSTAR. His classic yacht L'Esprit D'Equipe also has a pedigree as she was the winner of the 1985 Whitbread Round the World Race. We look forward to seeing her in next month's RORC Caribbean 600 when the crew will be joined by the winning skipper from the Whitbread, Lionel Péan.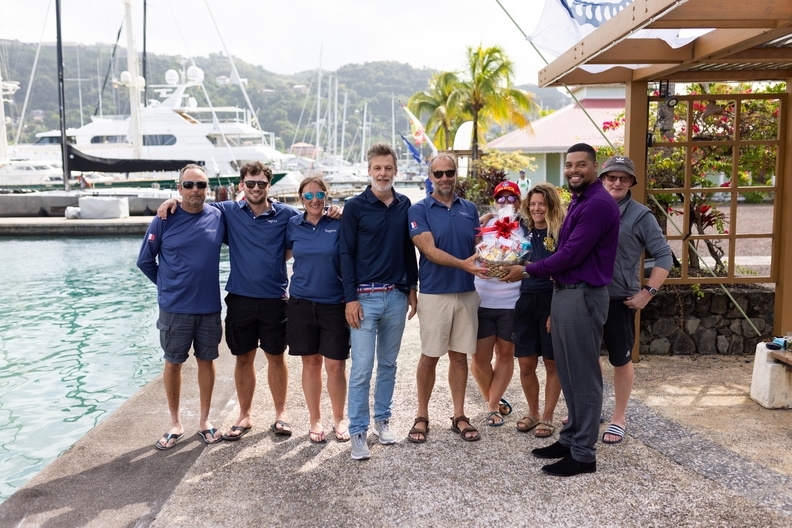 The Yagiza crew enjoying the Grenadian dockside hospitality after the race © Arthur Daniel/RORC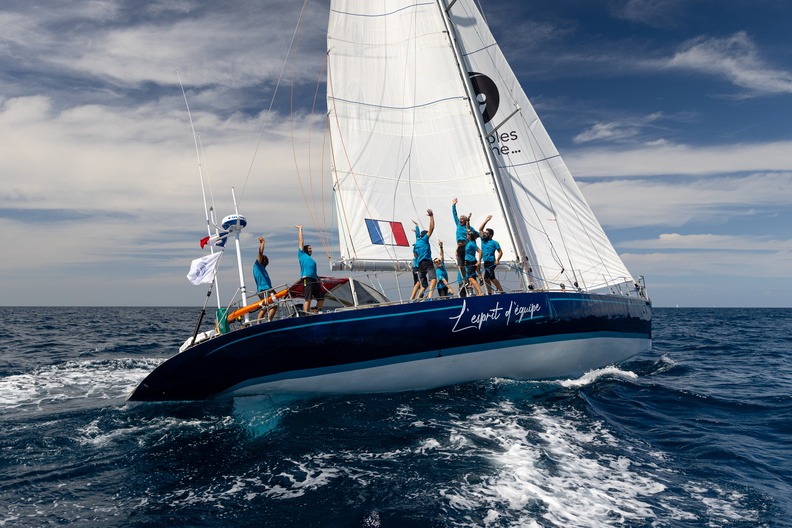 L'Esprit D'Equipe arriving in Grenada © Arthur Daniel/RORC

The Two-Handed team comprised of father and son, Peter and Duncan Bacon, on their Sun Fast 3300 Sea Bear finished the race on 25th January at 00:31:04 UTC, completing their RORC Transatlantic Race debut in an elapsed time of 16 days 10 hrs 21 mins 04 secs. Peter Bacon had previously competed in the 2019 Transatlantic Race (west to east) with Xp44 Lucy Georgina, winning IRC Racing 2 and notably beating Pata Negra and Teasing Machine after IRC time correction. They are the second Two-Handed team to finish in Grenada, with Purple Mist still to cover 500nm.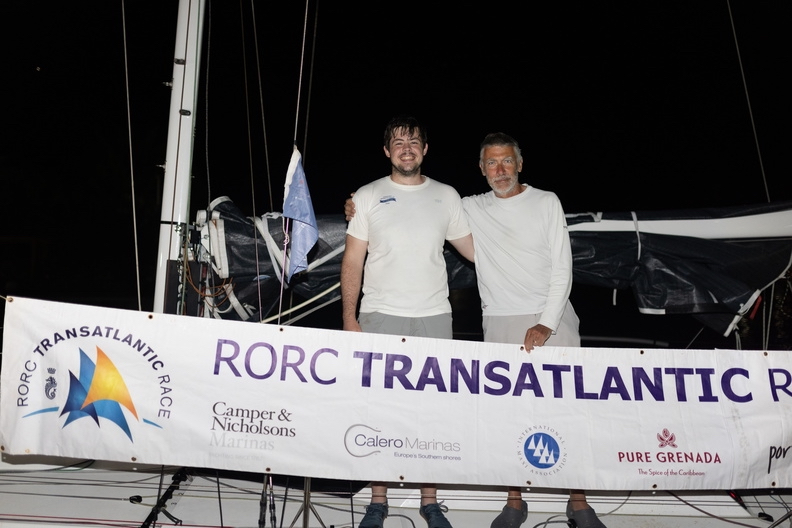 Peter and Duncan Bacon, the father & son crew of Sea Bear © Arthur Daniel/RORC
Meanwhile, still at sea, but due to arrive today, EH01 send in their final blog:-
"We've got less than 24 hours to run on this amazing adventure, so time for the final blog," writes Prue Nash from Global Yacht Racing's First 47.7 EH01, which at time of writing had 44nm to go until the finish in Grenada.
Global Yacht Racing's British First 47.7 EH01 has been racing with the Royal Ocean Racing Club for many years, but this was their first RORC Transatlantic Race. EH01's Irish skipper, Neil Maher has an international crew from Canada, Germany, Great Britain and the United States.
"Last night was fun; we dropped the kite before a big dark squall cloud and hoisted it again after the squall. Dropped it again for the next squall and then spent the morning under a poled-out headsail in the increased breeze and sea state. Now we are back under our Ullman S4 and the world is looking good again. The poled-out headsail arrangement did manage to give us the highest speed of the trip though - Jasper got 12.79 knots. Sorry Beana, you aren't the speed queen anymore!
"The finish is so close now, we can smell the showers - we really, really need one! Also, a cold beer, burgers, the pool and internet! We've received emails from our friends across the fleet who have finished already and have enjoyed hearing about some exciting spinnaker blow outs. Cannot wait to see everyone in Camper & Nicholsons Port Louis Marina for beers!," concludes Prue, before sending a list of notables from the crossing:-
Sleeping bags lost - 1. It's somewhere on this boat, but no one had found Jeremy's sleeping bag
Tanks of water used – 3
Tanks of fuel used for charging our batteries - 1. The solar panels have worked really well in keeping us topped up all day
Gas Bottles - 1.25
Spinnaker hoists in the last 24 hours – 3
Anti-wrap nets that have got wrapped – 1
Shaves on the trip - 4. 1 for Jasper, 3 for Jeremy. Rest of the guys are happily growing beards
Best Joke of the trip - Frank for the 'Chicken goes to the library' joke
See you in Grenada today!
Much Love
Neil, Prue, Jasper, Jenn, Sam, Frank, Jeremy, Paul, Beana and Christina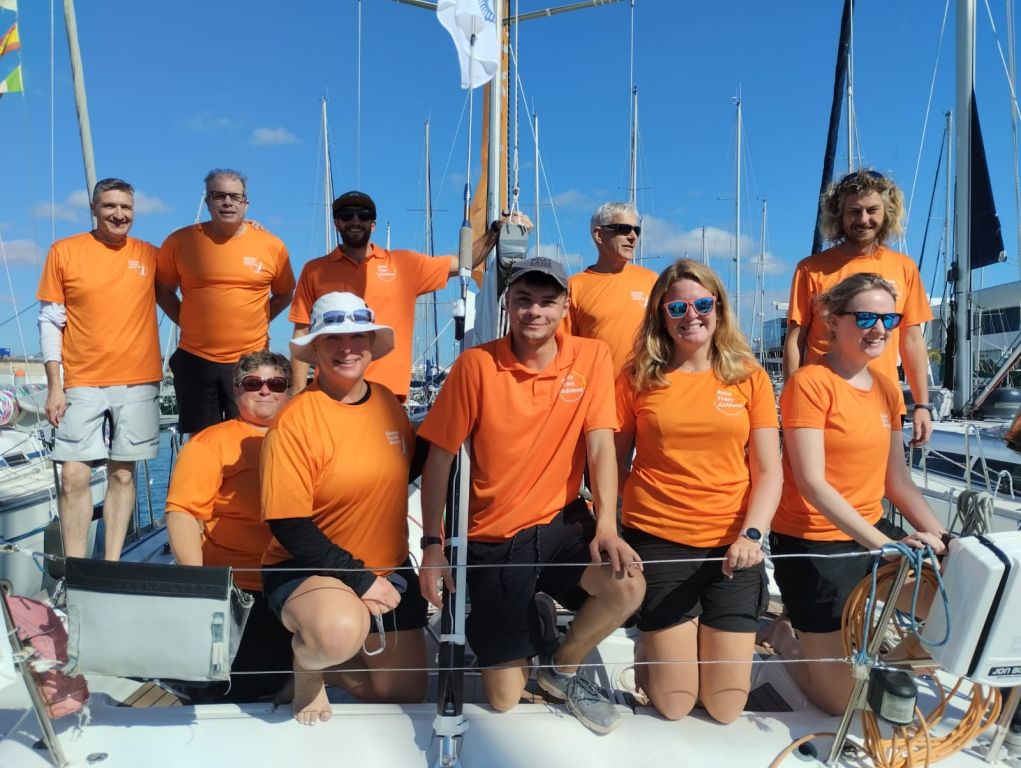 The EHO1 crew before the start in Lanzarote © James Mitchell
---