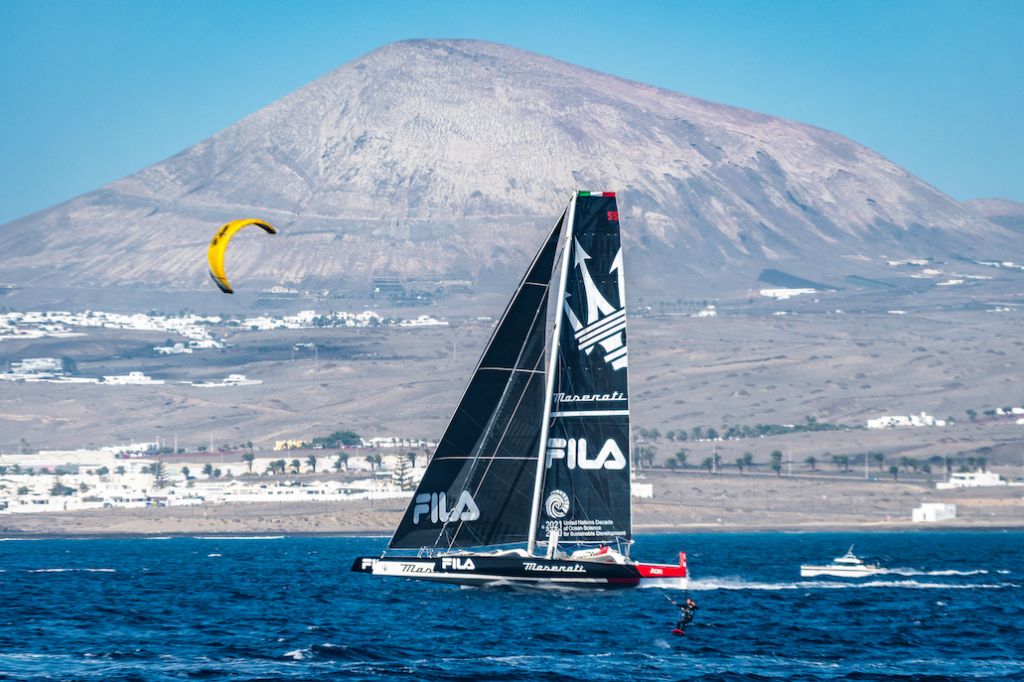 Multi70 Maserati (ITA) powers past a kite surfer at the start of the RORC Transatlantic Race @Lanzarote Photo Sport
DAY 2 - 09 JAN (1800 UTC)
MOCRA
Peter Cunningham's MOD70 PowerPlay (CAY) has retained the lead on the water in the multihulls, but the pace has slowed as the leaders feel the effects of a transition zone between the low-pressure system to the north and the trade winds to the south. Jason Carroll's MOD70 Argo (USA) and Giovanni Soldini's Multi70 Maserati (ITA) are continuing north, along with PowerPlay. It will be interesting to see which is the first to gybe to the west. The relentless pace has eased for now but the powerful 70-foot trimarans are still achieving 17 knots or more.
IRC SUPER ZERO
The 100ft canting keel Maxi Comanche (RUS) has continued a westerly trajectory, continually hitting speeds of over 20 knots. Volvo 70 I Love Poland (POL) and The Austrian Ocean Race Project's VO65 Sisi have both gybed west following Comanche. However, Volvo 70 L4 Trifork (DEN) has continued to head north.
IRC Zero
Max Klink's Botin 52 Caro (CH) is still leading the class, but only just. Botin 56 Black Pearl (GER), helmed by Stefan Jentsch and David Collins' Botin 52 Tala (GBR) have all gybed west and are continuing their close battle. In reality, all three boats are vying for the class and overall lead, after IRC time correction.
IRC One
Leaving Tenerife to port initially worked out well for Richard Palmer's JPK 1010 Jangada (GBR), Jacques Pelletier's Milon 41 L'Ange De Milon (FRA) and Ross Applebey's Oyster 48 Scarlet Oyster (GBR). However, Andrew Hall's Lombard 46 Pata Negra (GBR), which went south of Tenerife, is now through the lee of the island and starting to increase in speed due to the good pressure.
---