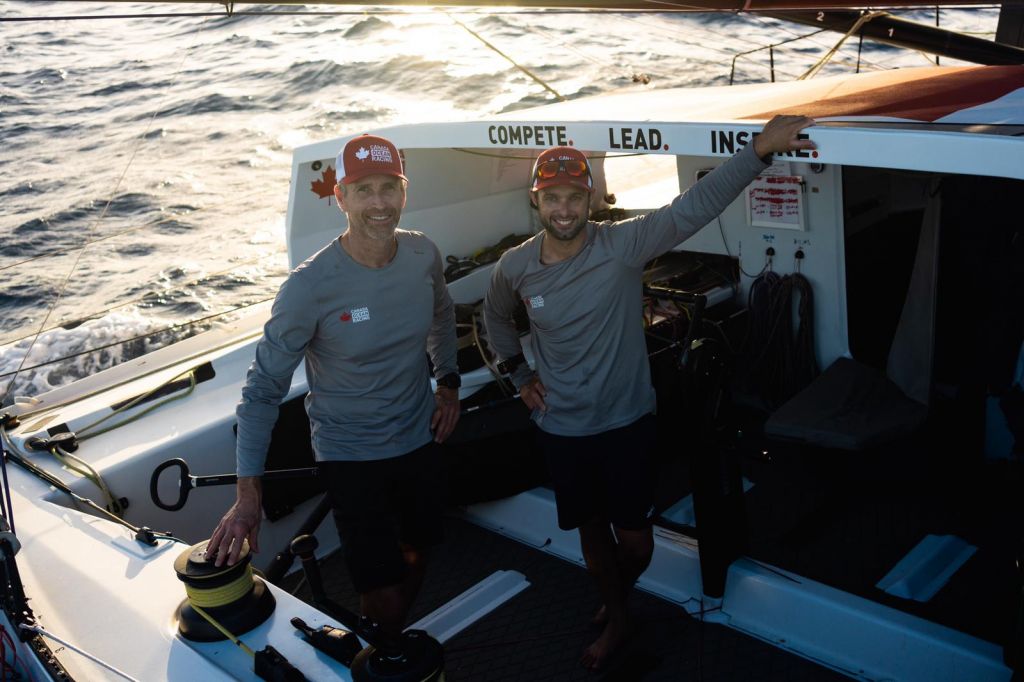 Wednesday 18 January - Day 11 Update
Following the finish of Volvo 70 I Love Poland (POL), four more monohulls completed the RORC Transatlantic Race in the space of just nine hours. Tired, but elated, the teams have joined in the celebrations at Camper & Nicholsons Port Louis Marina in Grenada.
Runner-up for Monohull Line Honours was IMOCA Canada Ocean Racing (CAN) which finished the race in Grenada in the early hours of Wednesday morning in an elapsed time of 9 days 12 hrs 26 mins and 16 secs. The third monohull to cross the finish line was Swan 115 Jasi (SWE), skippered by Toby Clarke in an elapsed time of 9 days 14 hrs 43 mins 37 secs. The Botin 56 Black Pearl (GER), with Stefan Jentsch at the helm was next, finishing the RORC Transatlantic Race in an elapsed time of 9 days 15 hrs 42 mins and 16 secs. The latest team to finish the race was Eric de Turckheim's NMYD 54 Teasing Machine (FRA) in an elapsed time of 9 days 20 hrs 21 mins and 36 secs.
Dockside at Port Louis Marina, the teams enjoyed a warm welcome and shared their stories from the RORC Transatlantic Race.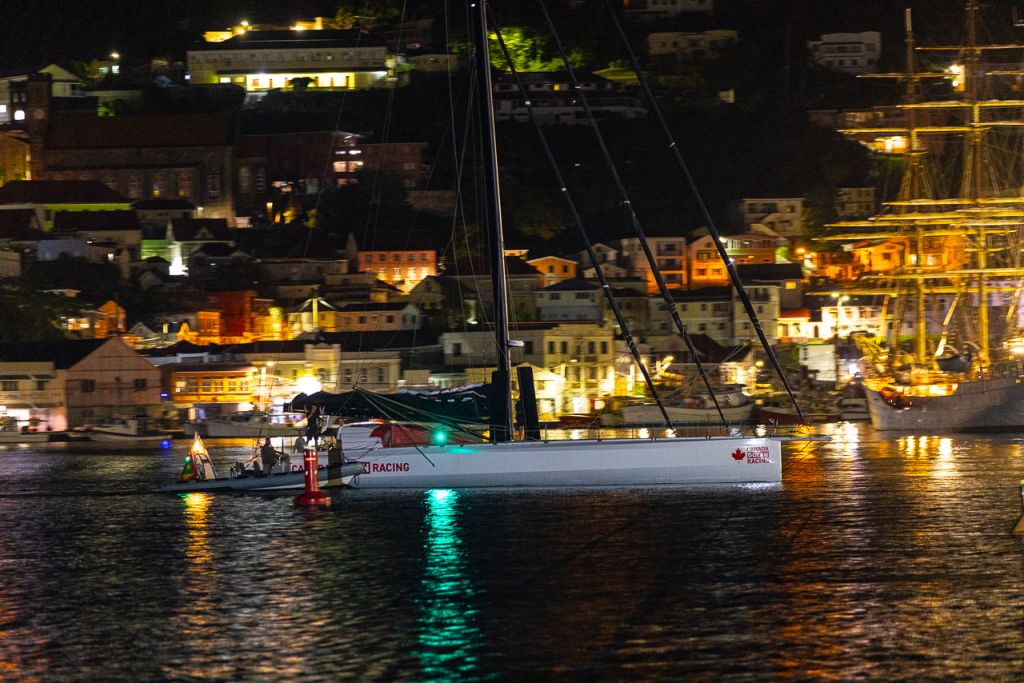 Assisted by the Port Louis Marina team, IMOCA 60 Canada Ocean Racing makes her way through St George's Carenage to a great welcome on the dock © Arthur Daniel/RORC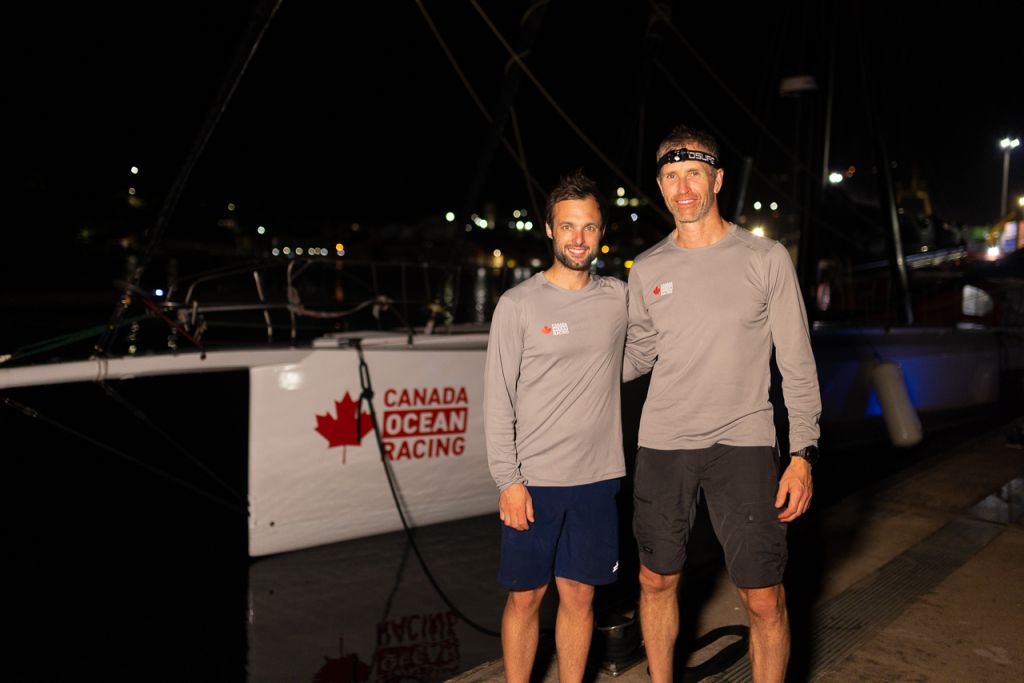 Canada Ocean Alan Roberts and Scott Shawyer on the dock after enjoying a great result in the RORC Transatlantic Race © Arthur Daniel/RORC
Quotes from the boats:
IMOCA Canada Ocean Racing - Scott Shawyer
"We are extremely happy with how we did in this race. When we looked at the weather models before the start, there wasn't a lot of difference between the routing south or north. So, our thinking through was how you differentiate yourself and make moves is by playing shifts and squalls to improve overall performance. I am relatively new to offshore racing and this is my first transatlantic. It was a great race and very well organised. I am able to do a 'fake' solo transatlantic back to Europe, so it really ticks lots of boxes. We had a fantastic time racing in a great group of boats and teams; the competition was incredible."
IMOCA Canada Ocean Racing - Alan Roberts
This was our first transatlantic race on the IMOCA; a huge opportunity to learn, and one big area is improving manoeuvres. Double Handed makes sail changes hard and it is a step up to an even higher level which is making boat manoeuvres solo. I've done a lot of single handed, mainly in the Figaro class, but this has been a big step up. I don't step into a boat to go cruising. Both Scott and I are very competitive and that is how you have to be to compete with the best. We have learnt so much about how hard we can push ourselves and to see what the boat is capable of.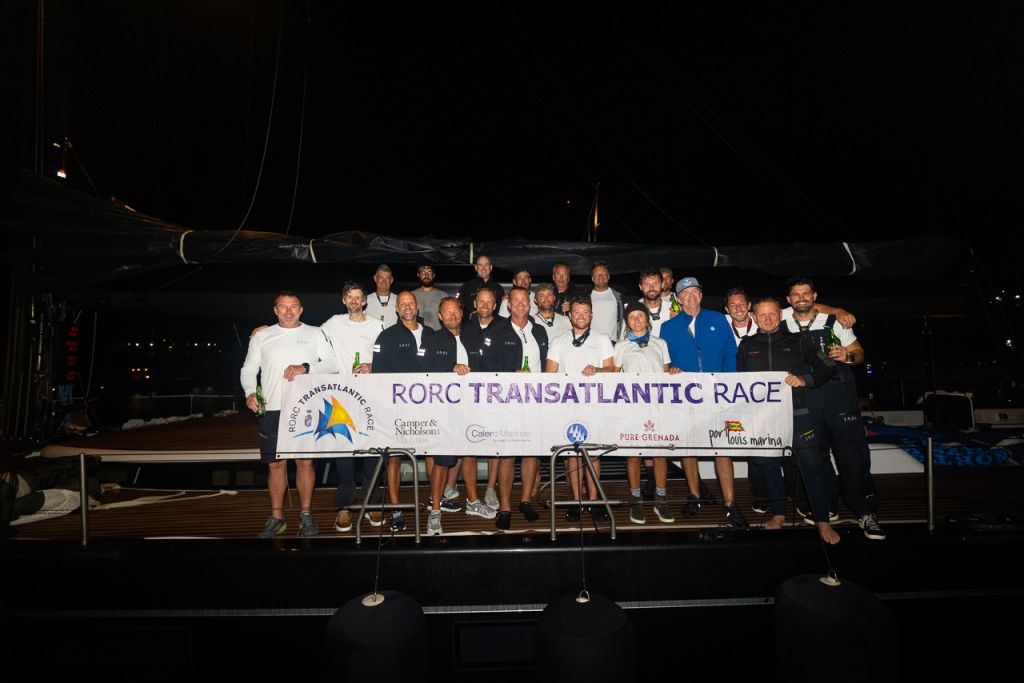 Smiles all round from the team on the Swan 115 after finishing the first ever ocean passage on Jasi - "She has performed beyond our expectations," - said Toby Clarke dockside © Arthur Daniel/RORC
Toby Clarke – Swan 115 Jasi
The RORC Transatlantic has been very much a bucket list race for the owner and some of his friends. It was key for us to integrate them into the crew so that they feel very much part of it rather than just a ride across the Atlantic, and they've done exactly that. At times they've been in full control of the boat, trimming both sails with the owner driving- who's done exceptionally well. Jasi has completed the race 13 hours quicker than the Superyacht My Song; a goal that we set out to achieve at the start. This was the first ever ocean passage for Jasi and she has performed beyond our expectations. We are all super happy onboard. We are fortunate to have a little more comfort on board than perhaps some of our competitors, but still when you've got 90 tonnes on the charge doing over 20 knots, that is amazing sailing. Jasi is a pleasure to handle, but you've also got to be on your game as well, but she's come through with flying colours.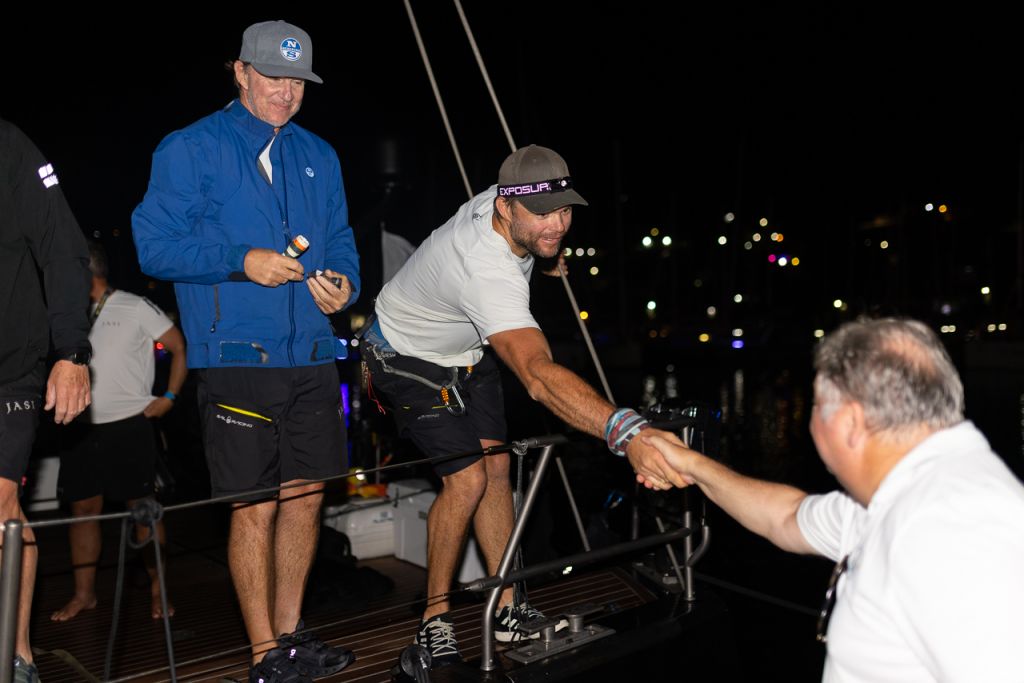 North Sails' Ken Read and team on Swan 115 Jasi - welcomed on the dock by the RORC Race Reporter and Race Team © Arthur Daniel/RORC
Stefan Jentsch – Botin 56 Black Pearl
For all of the Black Pearl team this has been pretty emotional. Last year was a difficult experience for everyone. It could have gone very badly when we broke our mast (700 miles offshore). To put the boat back together again and finish this race makes me very proud. Black Pearl is a machine and we have had absolutely perfect conditions. The first seven days we were flying triple-headed all the time, so we're blasting along at around 20 knots. Black Pearl's average speed was 15.5 knots for seven days. For a 56-foot boat, I think says it all. The boat is what we expected; super safe and dry inside, which was very important for us because a dry crew is a happy crew, and a happy crew is a fast crew. We are all very happy; Black Pearl has been very good to us this time."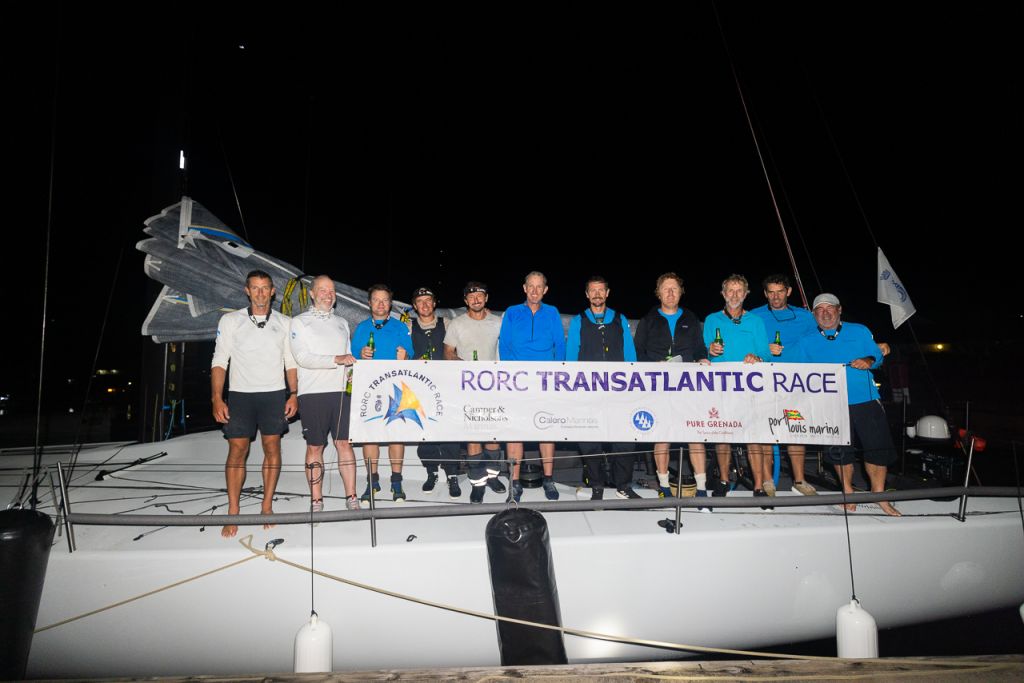 Stefan Jentsch and team on the Botin 56 Black Pearl - "Black Pearl is a machine and we have had absolutely perfect conditions." © Arthur Daniel/RORC
Eric de Turckheim - NMYD 54 Teasing Machine
"For me this is probably the most amazing race I have done; downhill all the way; fast paced and non-stop. It's just amazing to be able to charge at a constant 20-22 knots for 9 days. This weather is magic. Arriving at the finish line I was highly emotional, almost crying because it was not individuality which gave us success in the RORC Transatlantic Race, it was because of an incredibly good team with extraordinarily good team spirit."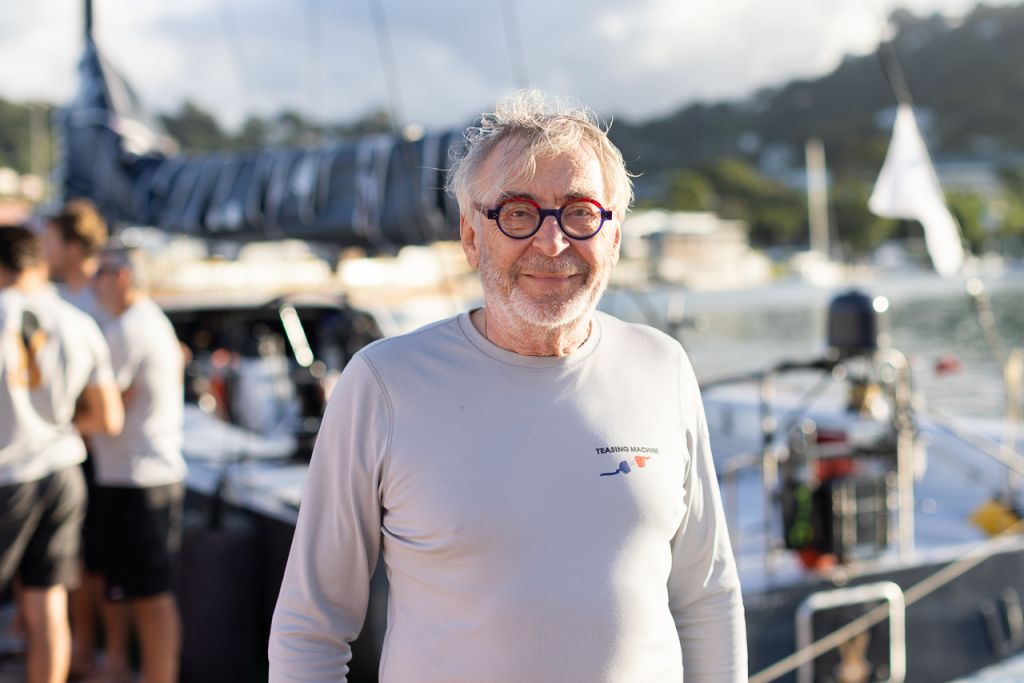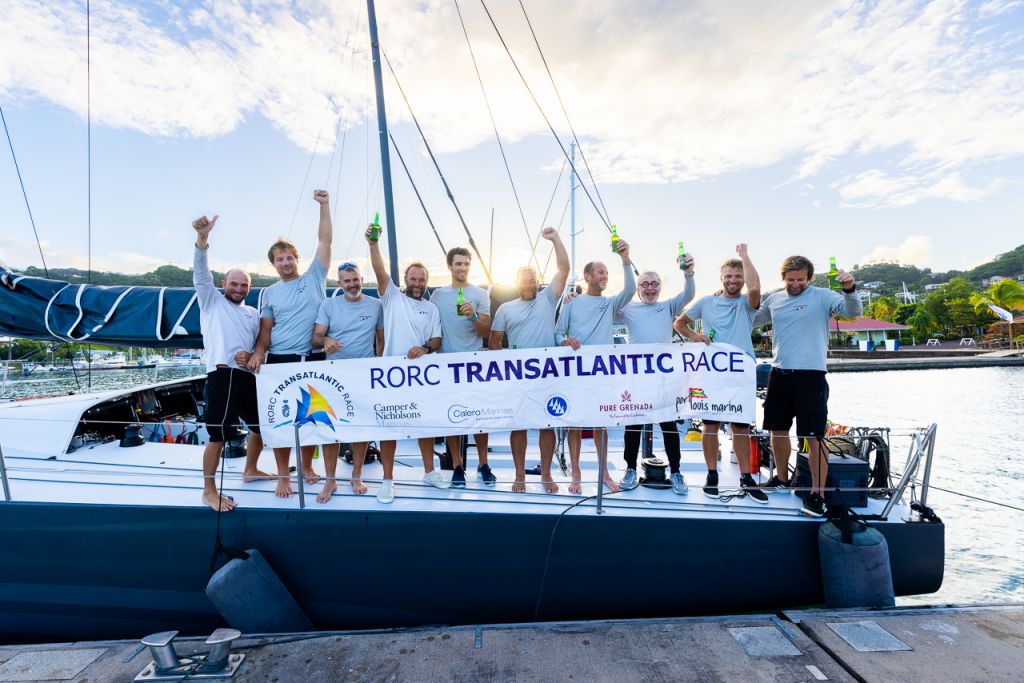 "For me this is probably the most amazing race I have done; downhill all the way; fast paced and non-stop," Eric de Turckheim - NMYD 54 Teasing Machine (FRA) © Arthur Daniel/RORC
---