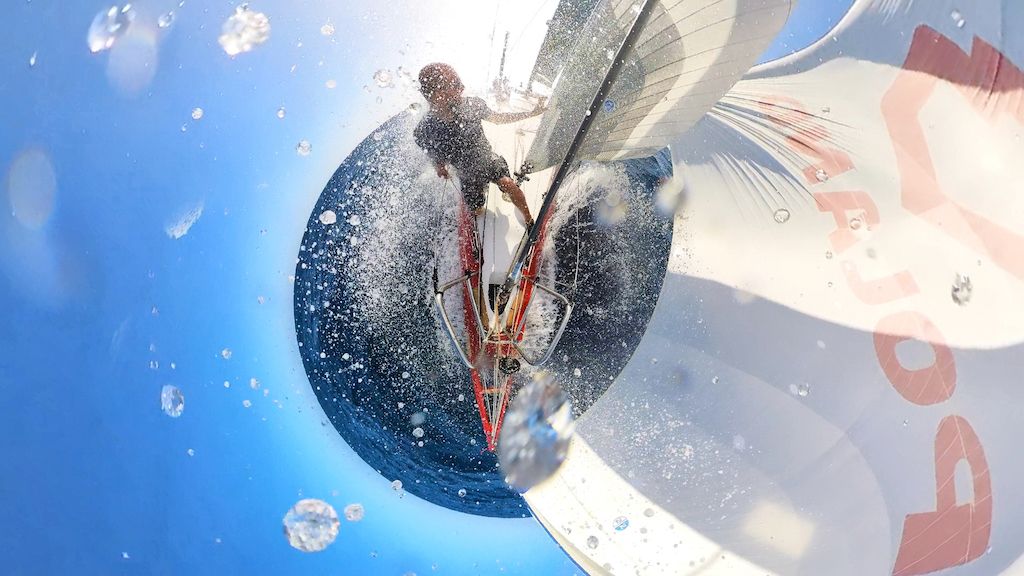 Twenty teams from 12 different nations competed in the Royal Ocean Racing Club's 3000-mile race across the Atlantic Ocean. Starting from Marina Lanzarote on the 8th of January 2023, the 9th edition of the RORC Transatlantic Race had near perfect trade wind conditions. Two new race records were set and 75% of the racing yachts took 15 days or less to reach Grenada.
Calero Marinas have supported the RORC Transatlantic Race every year since 2014, assisting teams with their preparations and organising great social occasions in Lanzarote. The RORC Transatlantic Race also benefits from continued support from the International Maxi Association and the Yacht Club de France. Camper & Nicholsons Port Louis Marina and the Grenada Tourism Authority provide a warm welcome in Grenada with cold beers and gift baskets of local Grenadian produce.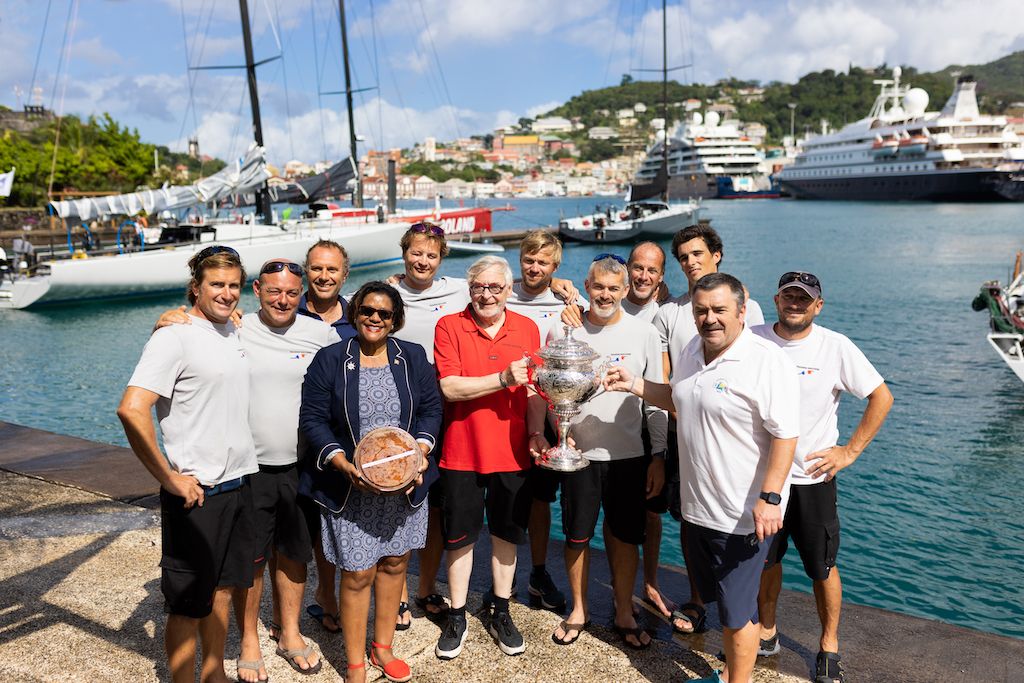 The overall winner of the 2023 RORC Transatlantic Race, decided after IRC time correction, was NMD 54 Teasing Machine (FRA) skippered by RORC Vice Commodore Eric de Turckheim. The top three boats overall were in IRC Zero, all with long-standing RORC members at the helm. Runner-up was Botin 56 Black Pearl (GER) sailed by Stefan Jentzsch and third was Henry de Bokay's Elliott 52 Rafale (GER).
Multihull Line Honours was won by Giovanni Soldini's Maserati Multi70 (ITA) setting a new outright race record of 5 days 5 hours 46 mins 26 secs. Monohull Line Honours and IRC Super Zero was won by the Polish National Foundation's Volvo 70 I Love Poland (POL), skippered by Grzegorz Baranowski. Andrew & Sam Hall's Lombard 46 Pata Negra (GBR) was the winner of IRC One. IMOCA Canada Ocean Racing (CAN) sailed by Scott Shawyer & Alan Roberts was the winner of IRC Two-Handed.
MOCRA Line Honours + New Race Record: Maserati Multi 70 (ITA)
Giovanni Soldini's Maserati Multi70 smashed the six-year-old race record by an incredible 17 hours. Averaging over 25 knots across the Atlantic, Maserati's top speed was a blistering 37 knots. Maserati's victory did not come easy, the team was challenged all the way by Frank Slootman's American MOD70 Snowflake (USA), skippered by Gavin Brady, and earlier in the race by MOD70 Zoulou (FRA), sailed by Erik Maris. Maserati also broke the centreboard casing; their centre-hull was flooded with water on arrival in Grenada. Soldini was quick to praise the crew dockside in Port Louis.
"We made a mistake in the beginning when we went looking for thermal wind in the Canary Islands; we probably missed it by half an hour," commented Soldini. "After that we did a really nice job when you look at our course. We gybed well on the shifts and came out of every manoeuvre on a great angle. Winning against really good opposition is a fantastic feeling."
Maserati Multi70 Crew: Giovanni Soldini, Guido Broggi, Matteo Soldini, Oliver Herrera Perez, Francesco Pedol, Lucas Valenza-Troubat and Francesco Malingri.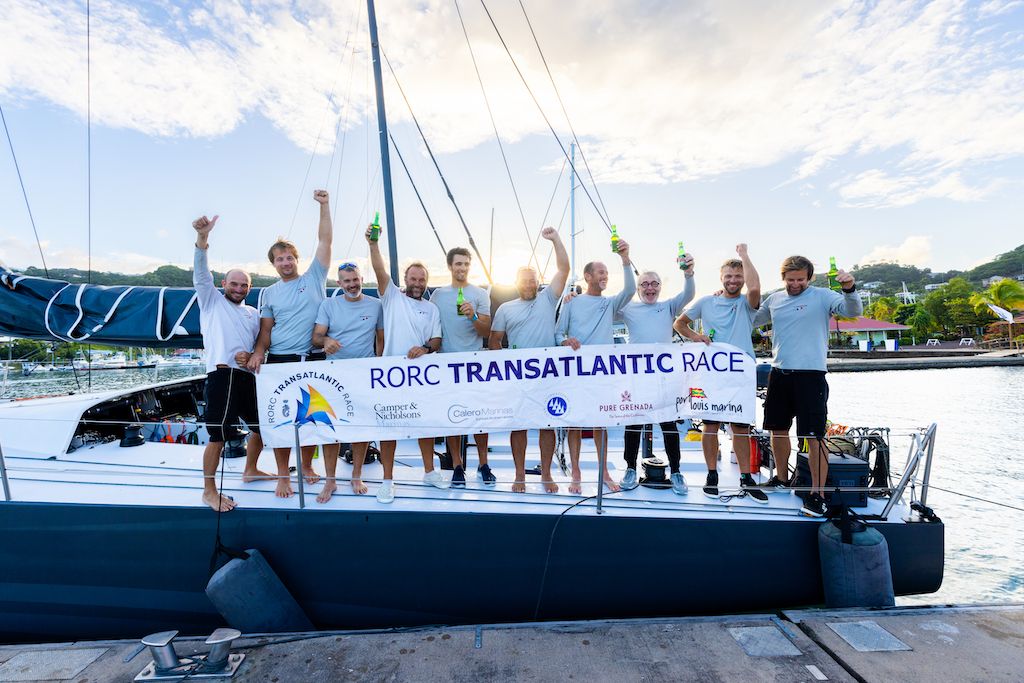 IRC Winner Overall: Teasing Machine (FRA)
Eric de Turckheim's NMD 54 Teasing Machine is on a winning streak, scoring back-to-back overall victories under IRC in the Rolex Middle Sea Race and now the RORC Transatlantic Race. In February, Teasing Machine will be going for a hattrick in the RORC Caribbean 600. Eric de Turckheim was delighted with the performance in the RORC Transatlantic Race, having completed the 3000-mile race in an elapsed time of 09 day 20 hrs 21 secs 36 mins.
"Winning the trophy for the second time after such an incredible race is fantastic," commented de Turckheim. "It was downwind all the way at huge speed, with very tough competition from Black Pearl, Rafale and Tulikettu. All these 50-footers are in different configuration, so Teasing Machine had to be in top, top form. The biggest battle was with Black Pearl; we were constantly watching each other on the tracker updates to see how we were performing. This year's RORC Transatlantic Race is probably the most amazing race I have done. It was not individuality which gave us success, it was an incredibly good team with extraordinarily good team spirit."
Teasing Machine Crew: Eric de Turckheim, Laurent Pages, Quentin Bouchacourt, Bertrand Castelnerac, Aymeric Chappellier, Quentin le Nabour, Paco Lepoutre, Gabriele Olivo, Christian Ponthieu, Jerome Teillet.
Monohull Line Honours + IMA Transatlantic Trophy: I Love Poland (POL)
Ten of I Love Poland's crew were under 35 years-old and have taken Monohull Line Honours in the Rolex Middle Sea Race, Roschier Baltic Sea Race and now the RORC Transatlantic Race, lifting the IMA Transatlantic Trophy. I Love Poland's elapsed time of 08 days 23 hours 37 mins 07 secs has only been bettered in the Monohull Division by the 100ft VPLP sloop Comanche.
"I am very proud of the team. Last year was our first Transatlantic Race and our aim was to complete the race safely," commented I Love Poland Skipper Baranowski. "This year, safety was still the top priority, but with more experienced sailors on board and some new youngsters, we could push harder. To win this race flying the Polish flag, with an all-Polish crew is just perfect. The RORC Transatlantic Race is the perfect start to our Caribbean programme and next we will race in the RORC Caribbean 600."
I Love Poland Crew: Grzegorz Baranowski, Mateusz Byrski, Arkadiusz Fedusio, Adam Glogowski, Grzegorz Gozdzik, Robert Hajduk, Dominik Janowczyk, Pacyfik Koseski, Konrad Lipski, Borys Michniewicz, Bartosz Nowicki, Filip Pietrzak, Patryk Richter, Jakub Surowiec.
Superyacht: Jasi (SWE)
The Swan 115 Jasi (SWE), skippered by Toby Clarke, finished the race in an elapsed time of 9 days 14 hrs 43 mins 37 secs. Jasi's time is the quickest by a displacement Supermaxi in the history of the race, beating the previous record by 15 hours (2018 - Pier Luigi Loro Piana's My Song).
"The RORC Transatlantic has been very much a bucket list race for the owner and some of his friends," commented Toby Clarke. "It was key for us to integrate them into the crew so that they feel very much part of it rather than just a ride across the Atlantic, and they've done exactly that. At times they've been in full control of the boat, trimming both sails with the owner driving- who's done exceptionally well."
IRC One Victory: Pata Negra (GBR)
This was the third RORC Transatlantic Race for Lombard 46 Pata Negra and the second under the ownership of father and son, Andrew and Sam Hall. Pata Negra's victory in IRC One bettered another father and son duo which was racing Two-Handed; Peter & Duncan Bacon with Sun Fast 3300 Sea Bear (GBR). Third in IRC One was Laurent Courbin's First 53 Yagiza (FRA).
"We had a lot more wind than last year. Once we left the Canary Islands we put the kite up and we have had some awesome sailing," commented Pata Negra's Sam Hall. "Fast sailing with white water and just shy of 29 knots of boat speed at times. This was all you could dream of for 14 days: just astounding. Sailing with my dad is great, but like any father and son we have our moments. However, we love each other and have raced across the Atlantic together twice, which is a special achievement. To share that with a special crew has been fantastic. Winning our class is a great achievement and definitely progress from last year."
Two-Handed: Canada Ocean Racing (CAN)
Winner of IRC Two-Handed and runner-up for Monohull Line Honours was IMOCA Canada Ocean Racing (CAN) in an elapsed time of 9 days 12 hrs 26 mins and 16 secs. Scott Shawyer was delighted with the performance alongside co-skipper Alan Roberts.
"We are extremely happy with how we did in this race," commented Shawyer. "When we looked at the weather models before the start there wasn't a lot of difference between the routing south or north. So, our thinking through was how you differentiate yourself and make moves is by playing shifts and squalls to improve overall performance. We had a fantastic time racing in a great group of boats and teams; the competition was incredible."
Classic Yacht under IRC + Yacht Club de France Trophy" Pen Duick VI (FRA)
Two Classic Yachts competed in the 2023 RORC Transatlantic Race. Lionel Regnier's 58ft Philippe Briand sloop L'Esprit D'Equipe (FRA), winner of the 1985 Whitbread Round the World Race, finished the race in an elapsed time of 16 days 2 hrs 09 mins 47 secs. Marie Tabarly's 73ft Mauric ketch Pen Duick VI (FRA) finished the RORC Transatlantic Race in an elapsed time of 13 days 19 hours 33 mins 53 secs. The Pen Duick crew of 12 were the youngest in the race and also had 50% women sailors on board. Proudly displaying the flag of the Yacht Club de France, Pen Duick VI was the best Classic Yacht under IRC and also won the Yacht Club de France Trophy.
"Pen Duick has a young crew, and there are not many boats like her," commented Marie Tabarly. "There is no school to race a boat like her; to gybe we need 11 people, we need to work together, stick together and have the vision of what is going on. Pen Duick is a heavy, powerful boat and you have to sail her in a very classical way which requires focus as well as spirit from the team. Having a team that can work together is much more important than if they are technically experienced."
First All-Women Two-Handed Team to compete: Purple Mist (GBR)
On the 29th of January, Kate Cope's Sun Fast 3200 Purple Mist (GBR), racing with Claire Dresser, became the first all-women Two-Handed team to complete the RORC Transatlantic Race. After over 20 days at sea, the team were met dockside in Port Louis to be congratulated dockside by RORC CEO Jeremy Wilton.
Kate Cope said: "I'm really proud. In a way, I knew I could do it. Getting to the start is one of the hardest things and everybody says that. I just hope that us doing this race will inspire other doublehanders to do it. You learn a lot about yourself and it's an amazing experience." Claire Dresser: "I feel so happy, I can't believe that we've actually done it. Now that I'm here it's quite emotional and it's an incredible experience."
With Purple Mist safely moored in Grenada, RORC Racing Manager Steve Cole commented: "A big thank you to all the competitors for taking part; to Marina Lanzarote and Port Louis, as well as the Race Team and volunteers for their hard work in this race. With the RORC Transatlantic fleet now all safe and accounted for, we look forward to the Nelson's Cup Series, the RORC Caribbean 600, and continue our preparations for the Season's Points Championship and the 50th edition of the Rolex Fastnet Race."
The 10th anniversary edition of the RORC Transatlantic Race will start from Lanzarote bound for Grenada in early January 2024.
Lead image: © Robert Hajduk/I Love Poland
Swan 115 Jasi: © James Tomlinson/RORC
All other images: © Arthur Daniel/RORC
---